Steve, it is an event that will be open to the public and which we can participate in. As a first time event who knows how well it may or may not be attended. I have no problem moving dinner to an earlier time. There will be more information about the event on the park's web pages. I was also told that Dennis and Cheryl are the camp hosts that month. For those of you that have not met Dennis and Cheryl, he has made several teardrops and they have been a part of our group for along time but now do the huge 5th wheel thing.
" I started out with nothing and I have most of it left." Groucho Marx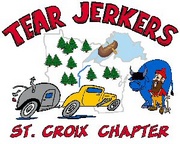 With each grey hair I'm another step closer to becoming a wizard!