Now that I'm safely retired, guess I can tell this story: I moved to New Mexico some years ago when I took a job on the local Air Force base. The place I worked was a fair distance from the main base, and there is a small mountain behind us where folks would jog and mountain bike, so when I bought a Jeep, a friend and I decided we should test its 4wd ability one lunch hour.
I'd vaguely heard that the land had once been used to test weapons, train special forces, and such.
So we took some likely looking trails, and, at one point, saw we were coming up to the back of a sign...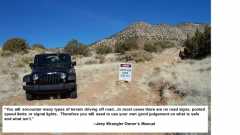 Difficult to make out in the picture, but that's a skull and crossbones under the lettering. I swear the other end of the road was not signed.

Tom