My new project is to convert my hard wall pop-up project to a retro look patterned after a 1966 Jet camper trailer. With the height of my frame, the overall height of my new build will be 94" (utilizing the existing pop-up camper door as a control dimension). This would require me to build it outside or rent a space with a taller garage door. I figure if i can get the total height during construction down to 82" I can work on it inside my garage. This would require dropping my project ceiling by 6" which is doable (I think it would actually look a little better at that height). I would drop the floor by 4" in the center where we would normally stand (between the queen bed and the dinette) and that would give me six feet of total interior height which would be OK for me and my wife at 5-9 and 5-3. The issue is that I would have to remove the wheels and lower the frame 6" onto cribbing in order to work on it inside the garage. I'm thinking I could do this by rolling it out of the garage on car dollies and re-install the wheels outside in the driveway. Has anyone built a taller trailer by using this method?
This is my existing pop-up project. Walls are portable foamy panels. Top and walls would be removed and the bottom shell would be the base for my new project.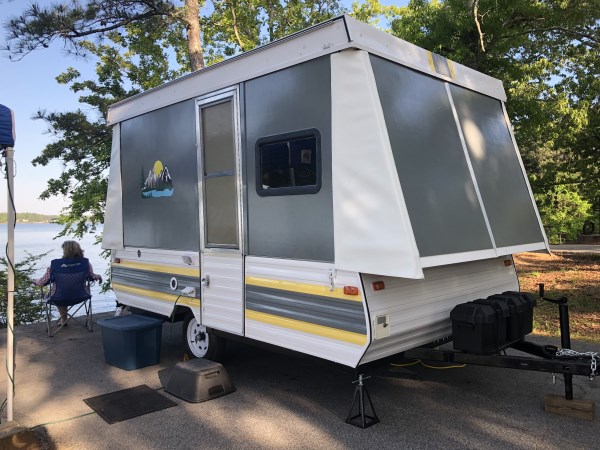 This is the look that I'm going for.