For my window glass I'm using some 1/4" acrylic I have laying around. I have a fair amount of it, and it isn't scratched (amazingly). My "cloud" windows will be 14x12 on the plate side, still haven't finalized the door window look yet, but probably somewhere in the 12x18 range, since my doors are pretty tall at 42".
This is the cloud window, same on both sides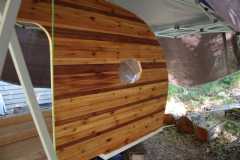 Here is the door blank I built. Both sides are similar, but not exact, the curb side door will be 2 inches shorter and 2 inches wider, but same basic shape.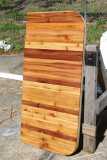 dave