So as you all know, premade doors for teardrops are ungodly expensive. I was looking on ebay for them and this came across my radar.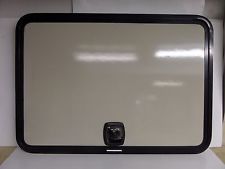 It is a cargo door for a larger RV. Its dimensions are 28x40 and it is 2 inches thick. I was thinking that I could replace the handle with an RV latch and install it as my main door. Over all it would save more than $150. I know it doesn't have a window, but maybe we can put a peep hole in.
Do you guys think that this would work? It seems like the a good idea to me, but I have not seen anyone else do it, and that might be for good reason.