Our TD had a living hinge, which has given up and gone on to join the choir eternal.
The piano hinge has been purchased, and an appropriate scrap of EPDM RV roof has been procured. Butyl tape is next on the shopping list, unless someone can authoritatively tell me that vacuum bagging seal tape is the same thing, in which case I have it in the shop already.
The advice I'm seeking regards where to apply butyl tape.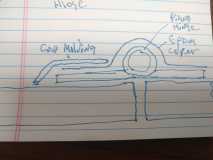 The big slab things are the trailer roof, followed (going up) by the piano hinge (0.063"), the EPDM cover (0.040"), and a cap molding that's yet to be determined. This mess will be screwed to the roof every 3-4 inches with sealing washers on the screws.
So, where should I put the butyl tape? I'm good with multiple layers of it, I just want to keep the galley dry.
Thanks!