Hi!
I started a build journal to chronicle my build and was hoping for some feedback there but perhaps it was the wrong place? I am very early in the build, actually inside cooling off right now, I have been out bolting the floor to the trailer but it is 100f outside right now.
I have spent a lot of time sketching and throwing away and sketching again. I want a design that is pleasing but also not overly ambitious. Here is a list of characteristics I have planned for:
1. Large purchased hatch for the rear trunk
2. Air conditioning mounted high in the rear bulkhead
3. HF Super Duty trailer
4. Large shallow radius on the leading edge
5. Square Back
6. 3/4" walls w/no insulation
7. 3/4" floor with 5/8" rubber mat on the inside as insulation
8. 2x2 ceiling spars with full insulation
9. Reverse sleeping accommodations, head towards the rear
10. Convertible queen sleeper/sofa
11. AC/DC power options, batteries w/solar
I have purchased windows, door and hatch already. I actually hope to start cutting the walls out for them shortly. I do not want to make any glaring life changing errors during this project and am hoping to rely on the folks here that have demonstrated some amazing builds.
The basic dimensions will be: 9' long, 64" wide and 4' high plus the height of the roof vent. The floor is sitting roughly 20" from the ground. Here are some pictures of what I have so far for the floor and the design sketches I put together as a general guide.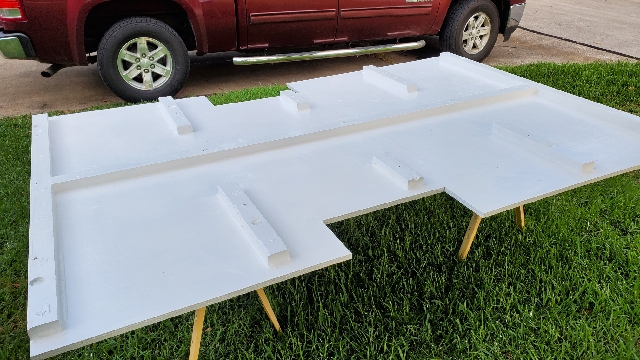 Glued, primed, caulked and painted with exterior acrylic. Bolted down using 3/8" carriage bolts, silicone squirt down each hole, nylon nuts.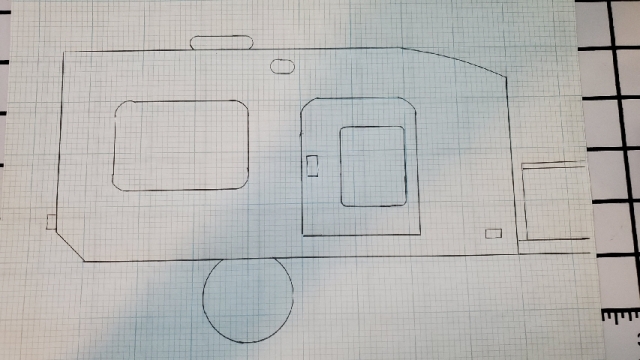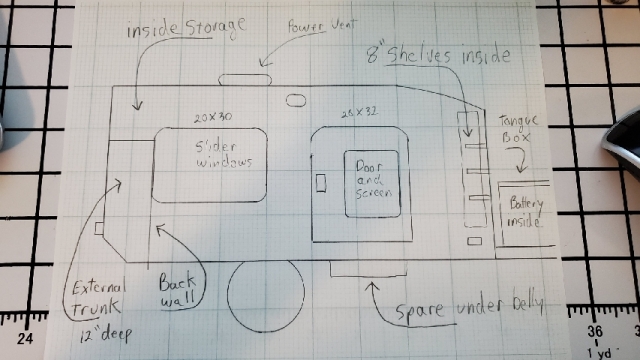 I am probably going to use bed liner for the outside and a light stain for the inside. I am using maple 3/4" grade A plywood for the walls. The floor is BCX. I am thinking FRP for the roof however I could be talked in to something else if it isn't extremely hard to do. $$ isn't a huge factor, this is for fun!
The walls will sit on the floor, a 2x2 will run the inside and act as the attachment point. I will use construction adhesive everywhere.
Thank you very much for sharing the wisdom you have all gained over time.