1. I'm thinking white and red/black. Is it true that LED lights need to be connected int eh correct polarity? (These are the standard cheapie plastic reading lamps from Vintage.)
2. I have this nifty thing. Each of the three devices has two leads. Questions: the two outside ones on a single circuit are fine, I am quite sure. But do I run the voltage meter on the same circuit as the USB and Ciggie plug, or do I run a separate 2-conductor back to the battery somehow?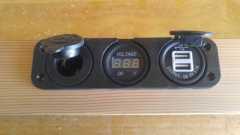 3. I'm running two-conductor wire for 12V (12 Ga - overkill, I know, but it's how I roll) from my lights, USB chargers, Cig Plugs, etc back to my panel. The panel is the Progressive
http://www.progressivedyn.com/all_in_one_pd4000.html
Inteli-Power type. How do I ground these circuits?
4.What's the max number of items that I could/should put on a 20A circuit? I'm going way overkill here, but hgere's the plan so far:
Circuit 1 - cig Plugin for DC Cooler
2 - 3 interior cabin lights + 1 USB charger
3 - 2 interior reading lights + 1 USB chRger
4 - 3 Galley lights + 1 USB charger + 1 cig plugin
I'm also running a few lines (one to the main cabin and one to the galley "for future consideration", but they won't, of course, be hooked up.
So that's six of ten 20A circuits accounted for. Sound about right?
OK, four questions.