This may sound a little backwards, but we decided to start our teardrop design with the electrical system. I wanted to have the parts in hand so we could measure them for the actual camper design. But, once in hand, how do we know they work? I tested the 12 lights, fan, and USB ports with a 12 v power supply, but how about the PD 4045?
So we decided a mock-up was a good idea. We could just wire the parts together in a mess on the bench, but, the more we thought about it, building a dedicated cart out of scrap wood seemed to have certain advantages. Once assembled, we don't need to take the system apart, and, as we build the camper, we can take the parts off one at a time and reassemble them in place, then test them with the battery (still on the wheel-around cart, until, finally, we relocate it to the tongue box). Once finished, I can replace the top OSB panel and have a utility cart for the shop.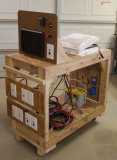 I'm a one time electrical engineer, but not too familiar with camper electrical systems. I studied up on this folder, but was never quite sure about 12 v wire sizes, so I decided to cut the wires to length and test them. I was surprised to learn (though I shouldn't have been) that the 12 v hairdryer Shelly let me use for tests--because it doesn't get hot enough for her taste: draws too little current--actually draws about 16 A. So, instead of 14 gauge speaker wire, I upgraded to 10 gauge wire designed for water sprinklers for those circuits. I will also replace the cigarette lighter outlets shown, which are only rated for 12 A, with heavier duty ones.
The wires look like a rats nest, but I can figure out which is which and will run the same wires in the camper at the appropriate time.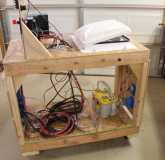 That's an old Optima battery that I replaced on my Jeep a few weeks ago. It'll do for initial tests, and maybe for some shake-down weekend camping. I'll design the battery box to hold a pair of 6 v golf cart batteries. Several folks on this forum and a colleague who designs electrical systems for remote radio systems suggested 6 v AGM batteries are better than 12 v.
I plan to build a fairly elaborate tongue box, with a battery box, the PD 4045, and electrical interconnections. This panel is a rough mockup of part of that. I'd like a cigarette style outlet and battery cut-off switch there, as well as a volt meter. I'd like to also have the battery master fuse there, but I'm not satisfied with that style fuse holder. I'd like to find an automotive style holder that mounts on the panel without showing the wires.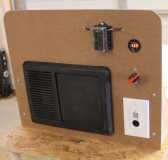 For camper lights, we have a dome light for the cabin, another for the galley, and two porch lights. (I used the clear lenses for testing, we'll use the amber for bug deterrence in the camper.) For the porch lights I'm simply using 120 v style switches. These are a little shallower than standard, and I hope to get them into the sandwich walls without having to build out. For reading lights, we have a couple that plug into USB ports.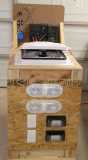 I like these style of USB ports that convert 12 v to 5 v but look like they belong in a home. I tested another design and found they interfere with the radio, while these don't. We'll have two sets near the head of the bed for reading lights, charging phones, etc., and one in the galley. We'll also have a 12 v cigarette style near the foot of the bed for <sigh> the computer we'll take with us camping

(to watch DVDs on rainy evenings), and one in the galley. As mentioned, I'll replace these cigarette style outlets with heavier duty versions.
One set of AC outlets is for the Climate Right AC (also planned for the tongue box) (we'll have to camp in hot/humid country on the way to visit Mom), and the other for the galley and foot of the bed in the cabin.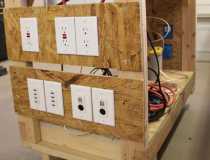 A little elaborate, perhaps. Hope it may help someone on here with ideas. Thank you all who posted information in the past. Couldn't have done this without all the good advice!
Now, on to actually designing and building a tear drop!
Tom