So, we want to use these tail lights on our teardrop: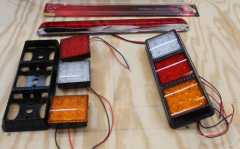 but the problem is that the wires come to the trailer from the tow vehicle in the form of a right signal/brake light and left signal/brake light. We, of course, want three wires, one for each of the orange turn signals, and a separate brake light for the red lights. Also, we want to use the center brake light in the picture, which has a brake light wire (as well as a running light wire), but isn't intended for signalling turns. (BTW, I'm an electrical engineer, been building the teardrop for the past year, and have owned the lights since November 2017, yet never noticed we had this problem until yesterday, when I tried to count the number of wires we need to go into the hatch.

)
So, I see how one could build a "black box" (CMOS logic and drivers) to deal with this, but, surely, I realized, someone must already make a product that splits the two wires into three; and, in fact, they do:
https://www.etrailer.com/p-118158.html
Great! But, the specs on the device say it is for incandescent bulbs only. Does anyone know why this might be? Seems like some of people in the reviews have used it with LED lights with essentially no problems. So, does anyone have experience with this?
I looked for similar products for LEDs, but so far with no luck. (This device is also sold through Amazon.)
Other solutions, of course, would be to buy a center light that includes turn signals, and either buy a different type of turn signal/back up/brake light set, or a second set like these and replace the orange lights with either a double set of red or white lights. If the 2 to 3 wire tail light converter will work, however, it is the cheaper and more elegant solution.
Thanks in advance for any comments and/or experience.
Tom