This week I received all the parts for my solar project.
I am wanting to install the solar panel to my camper here are the parameters I am wanting to achieve.
1) I wish to install this to my Yakima roof rack.
2) I want to be able to tilt the panel.
3) I wish to be able to fairly easily remove the panel.
Thinking this through has been as much of a challenge as with mounting the charge controller. I will show you the top of my teardrop camper.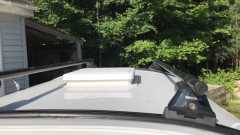 My intention is to install this with the longest part of the solar panel along the Yakima cross member. I am thinking that this would be the easiest direction to tilt. It would be nice if I could just use the round rail itself as the pivot. Pivoting from the front rail would allow me to fully open my roof vent.
In today's shopping quest I recognized several possibilities yet I really haven't arrived at a solid conclusion of how things could properly come together. I have viewed many youtube's but nothing is really specific to this application.
My early thoughts have been that I would want to 1st mount angle iron to the sides of the panel. This would give a flat bootable surface of which something like a U Bolt could clamp to the Yakima cross members. Conceptually I am thinking that this could work, but I am questioning just how well it would work as a pivot or stationary clamp for all 4 of the clamp locations.
I have looked at numerous items that might be helpful if assembled correctly such as Corner Braces, Eye Bolts, Gate Pintles, Pipe Gate Hinges, etc... I think the connections at all 4 corners should some way be affixed in a non permanent way to the Yakima cross braces. 2 corners would be rigidly clamped and 2 would allow rotation.
The Youtube's I have seen take different approaches. 1 good idea was having a length wise rod which was the pivot and the other end clamped to a vertical edge of the rack.
https://www.youtube.com/watch?v=Skfy0jSoerU
It wasn't installed on round cross members as mine will eventually be. I like the simplicity of being able to pivot, be clamped for going down the road and the ease of removal.
Has anyone tried or seen a good method of Solar Panel install on a roof rack?