Hi everyone!
The other day, I was thinking about how my wife likes to make smoothies in the morning and get the blender and all these dishes dirty.
I think the Magic Bullet you see advertised on TV infomercials is a good idea, but I don't need one more appliance in my kitchen, or spend the $60 it costs.
I was also thinking it would be great to have a camping blender that didn't require a 110v outlet.
Here is what I came up with the other day.
I noticed that Mason jars have the same thread on them as the bottom of the blender.
So there is nothing stopping me from screwing the blender gasket, blade and base into a Mason jar and making my own "Magic Bullet"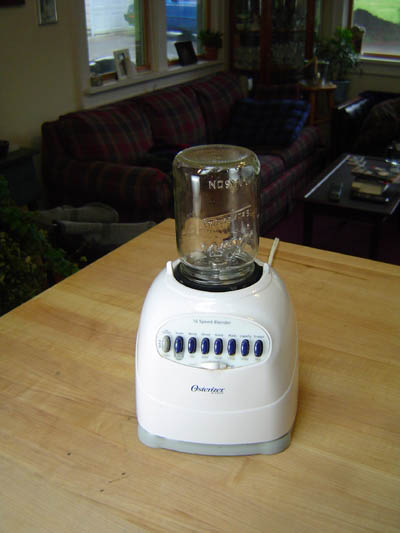 Just unscrew when done and drink like a hillbilly.
Don't try this for Margaritas! One of the ice cubes flew at high-speed and put a crack in the glass!
So I started experimenting with other Jars.
Pickles jars are too big, peanut butter was not quite right. Mayo jar worked perfectly. The threads on the plastic mayo jar was just a little different, I think it would work fine with 2 gaskets instead of one.
The Oster brand blender has a nice solid METAL drive shaft with a square cross-section. The hole in the blade base is 8-sided, to make it easier to line up. If you put an adapter into a cordless drill that goes from the standard 6-sided shape that gets chucked in a drill, to a 1/4th inch square, like for driving a 1/4inch socket, it fit perfectly into the base of the blender. The little tiny ball-bearing on the 1/4in socket adapter even holds it in real nice.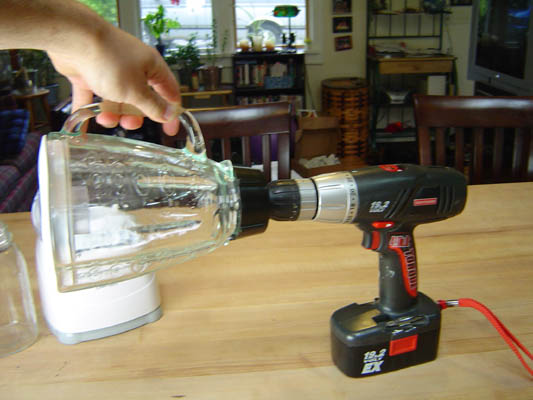 I thought this would be great for fancy girly drinks while out camping. A cordless drill is basically just a battery-powered electric motor!
-Ben