I'm new so I'm sorry if I am posting this in the wrong place.
So... I was surfing the internet and saw one of these:
This got me thinking... (its always bad when I start thinking)
I have had a Suzuki Samurai sitting around for about 3 years now. It had a blown motor and the trans was stolen (long story) so I decided not to invest anything into it...
After looking around the internet at "Adventure Trailers" I decided that the rear half of the perfectly good Samurai shell is a great candidate for the tub and axle for my off-road camping trailer. Insane, you say? Well, not if you grew up watching as much McGyver, A Team, and Mr Wizzard as I did.
Last thursday, under the cover of darkness, I had my buddy tow the samurai 3 miles from its storage location to the place where it will undergo its transformation.
When I say tow, I mean pull with a 25' tow strap behind his fullsize chevy. I was in the samurai praying that the brakes still worked and hoping there were no other parts that I had loosened or removed. I was also attacked by a small bird who thought it was a good idea to build his summer home in the glove box. Although scary, the trip was uneventfull.
Friday, I took a ride to Fazzio's in Glassboro NJ (metal source).
Here is the rough idea of what I had in mind when I started.(gotta love ms paint).
Thats not my truck. Just a pic I found online.
I will update this thread with my progress.
I am open to suggestions and feedback.
If anybody is interested in the hacked-off front half of a suzuki samurai or parts of it, let me know before they end up at the dump.
Here is (was) my sami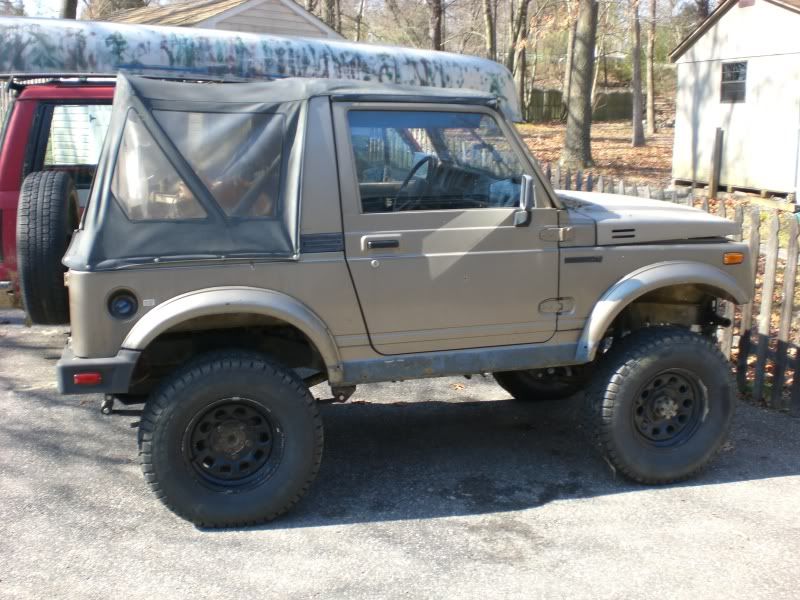 Heres where the attack bird was living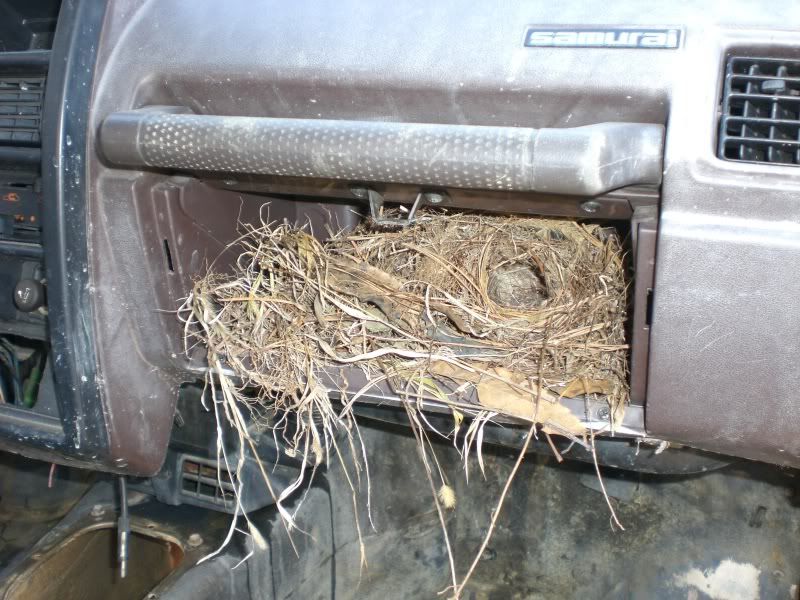 Buzzzzzz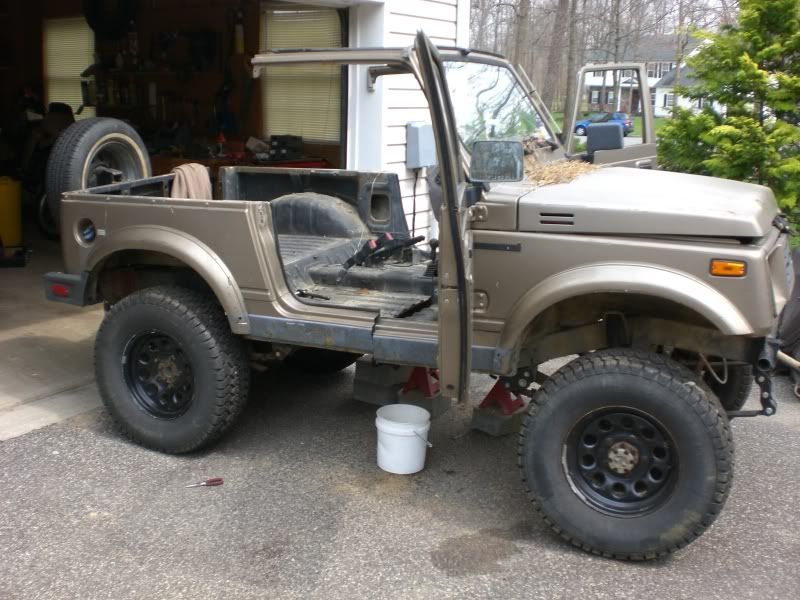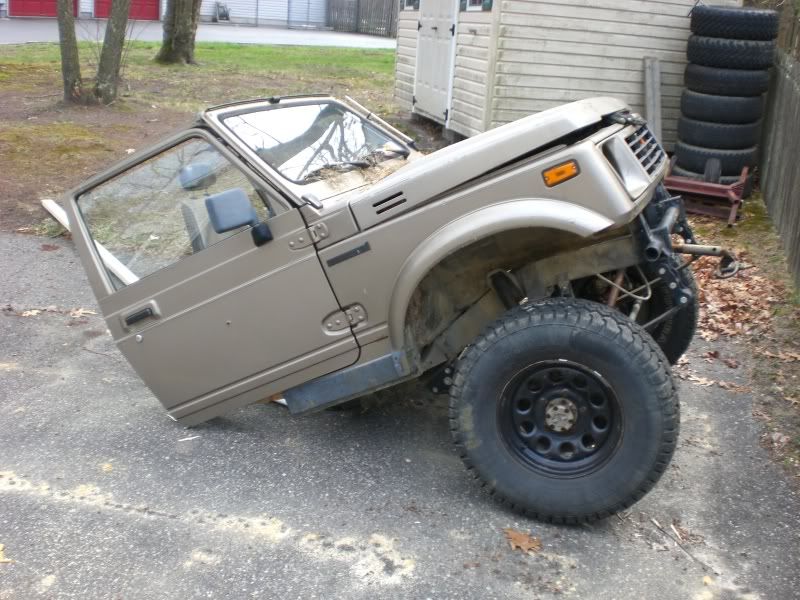 Fabbed up the crossmember for the tongue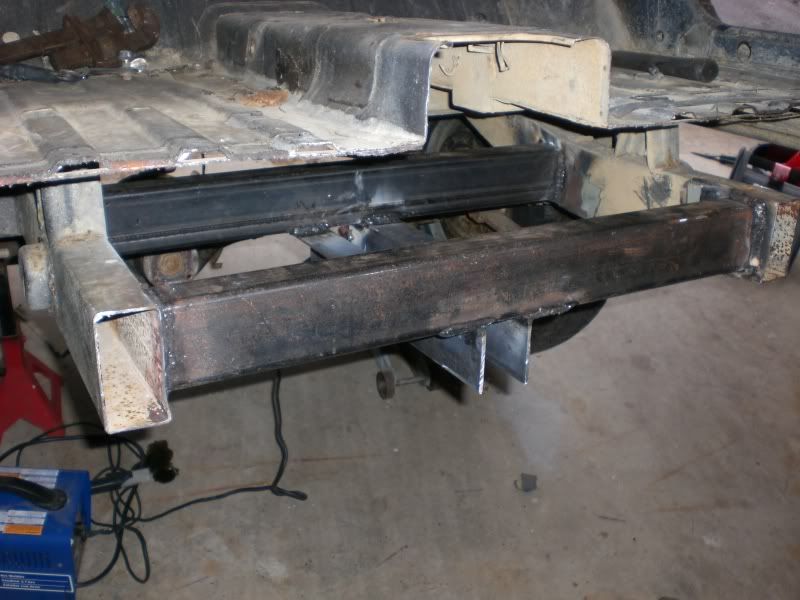 Got extremely frustrated with a POS welder and modified it with a sledge hammer
Got what I should have a long time ago
And heres where I left off saturday night.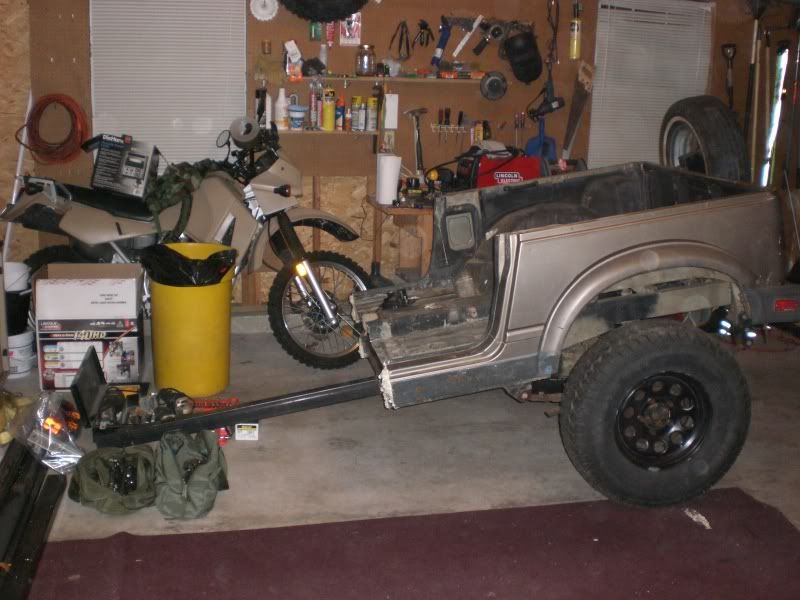 Didn't get to do too much on Easter.
Finished to tongue and coupler.
Started on boxing in the tub.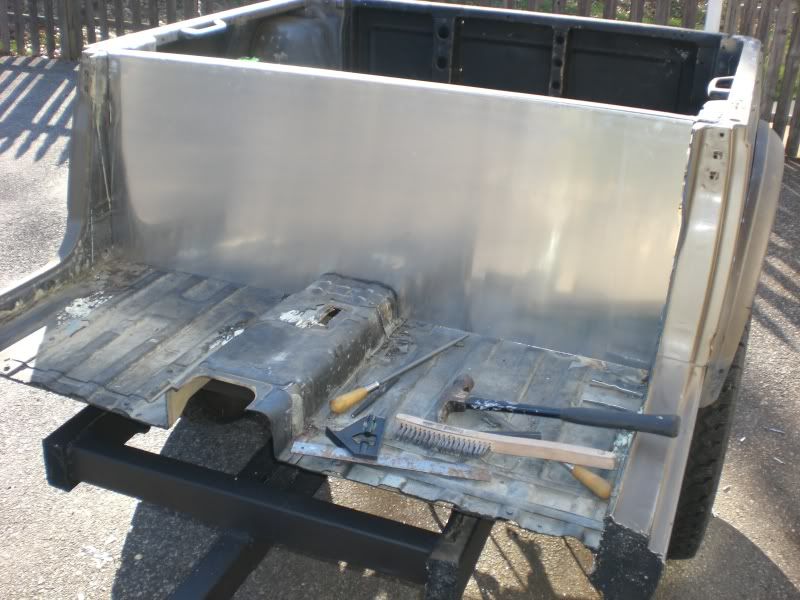 I have to admit that I probably should have just sold the sami shell and started from scratch. But that is in hindsight because I have purchased a second angle grinder, a nice MIG welder, and a chop saw during this project. If I have them when I started, I would have built from scratch. I have gotten a lot of interest over at the suzuki forum so I think I could sell this trailer to a guy with a samurai who wants an identical trailer and then build myself a completely custom one from scratch. We'll see. I am happy with the way it is turning out though.
One important thing to note is that I am playing this entirely by ear. I had no actual PLAN for what this thing would look like when finished. It is becoming a fabrication learning experience as much as it is a purposeful build.
Heres monday's progress.
Finished installing the pannel that will be the front of the main bed.
I decided to partially enclose the front end of the trailer with box tubing. This is the area that will be used for water and gas contailers.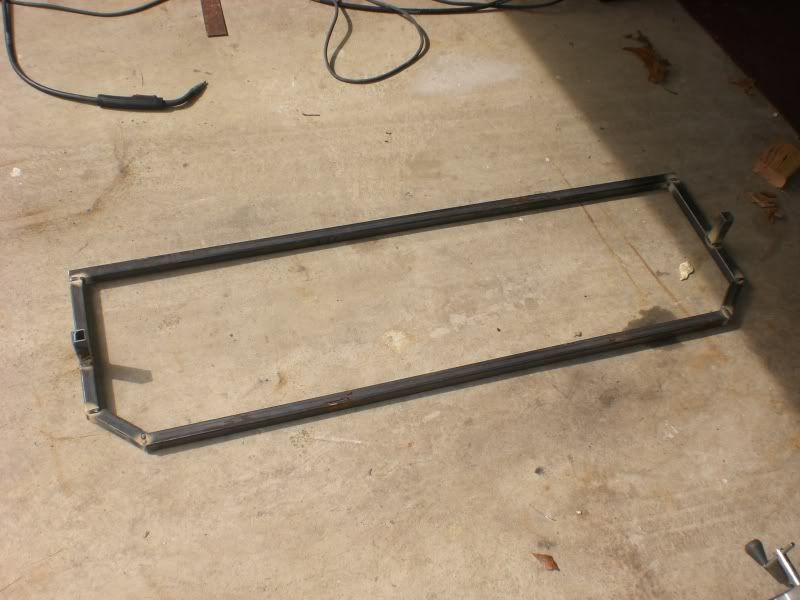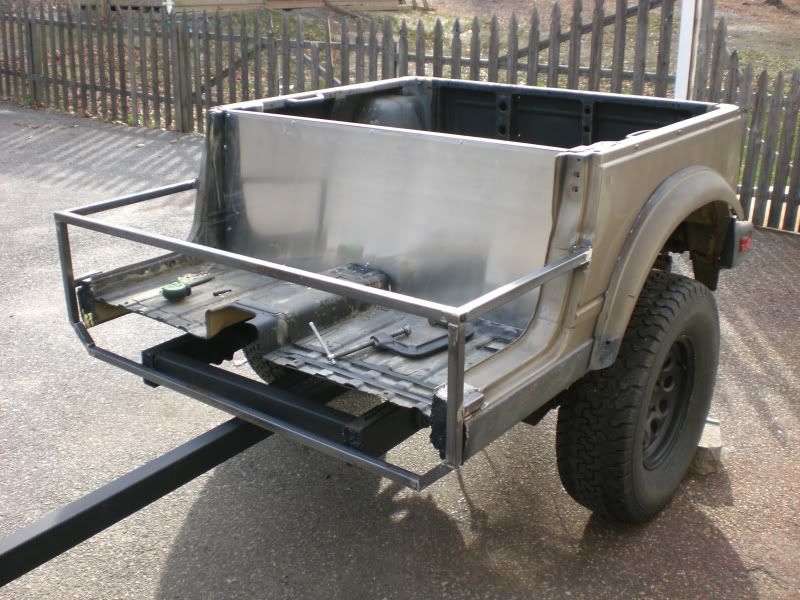 Alooominum front pannel for that. Painted the tubing and the pannels.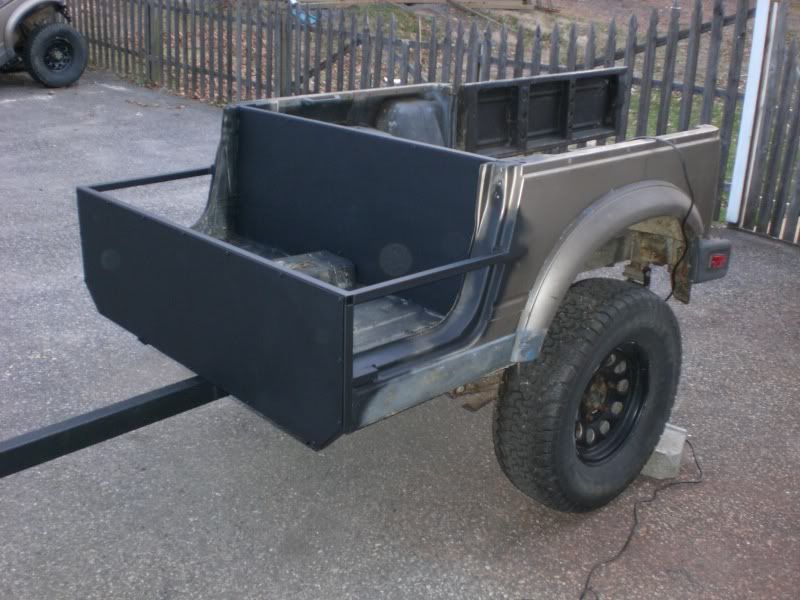 Added angle plates to the tub where the rack will mount. I am still not sure how this will work out. I'm trying to decide if the bed will have a tonneau type cover under the rack or if the whole trailer will just be tarped... or ???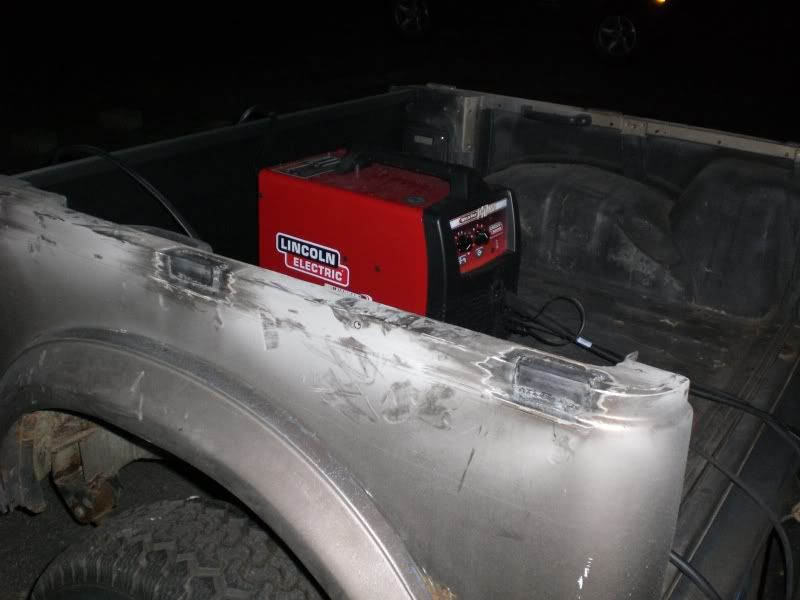 Tuesday I built the rack. I decided to go with an open design that I can tie a canoe/kayak down on, but with no floor so I can still carry larger objects in the bed. I am going to have a snap-on soft cover made for the bed. It will have cutouts to go around the rack posts. I have a lead on a guy who does really nice work. He did my fiance's dad's boat cover (huge).
Here's the rack.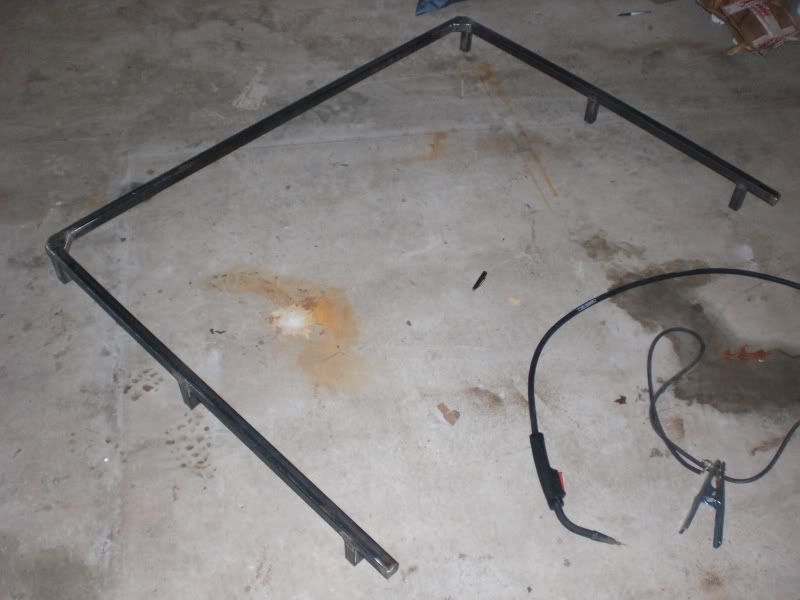 Naturally, since last night was the first time I left the trailer outside... it rained. Heres the very wet trailer. You can see that I filled the gas filler area with "great stuff" expanding foam from cheapo depot. It will get sanded and body fillled later.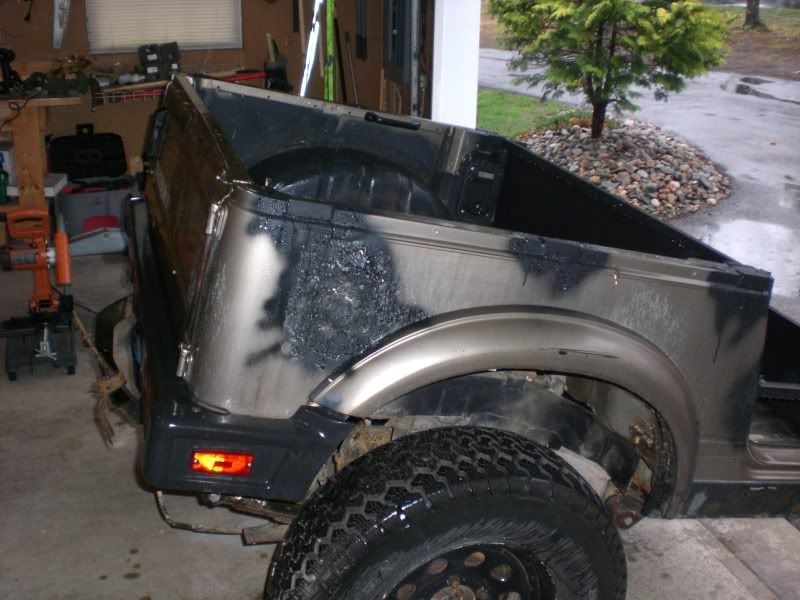 I had to dry the rain off the trailer to sand/weld etc. so I broke out the Industrial Strength Bastardized Samurai Trailer Dryer.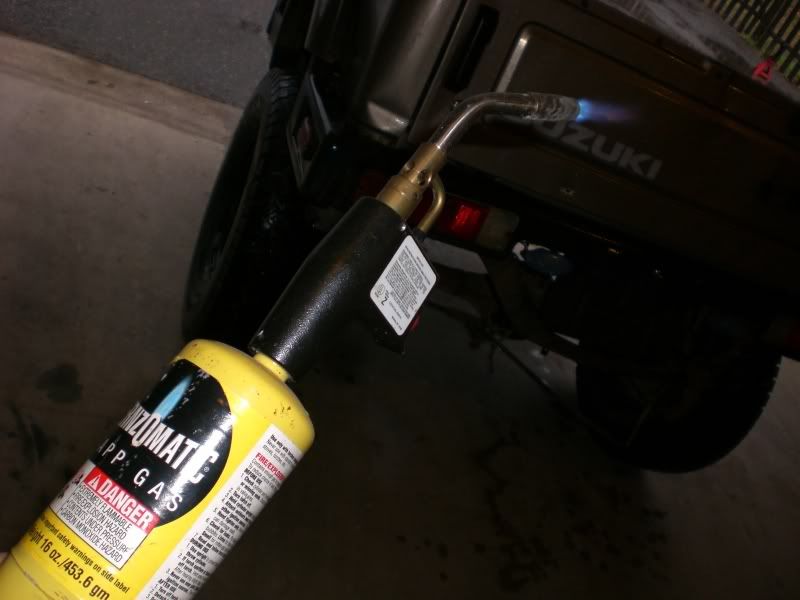 Welded the rack on.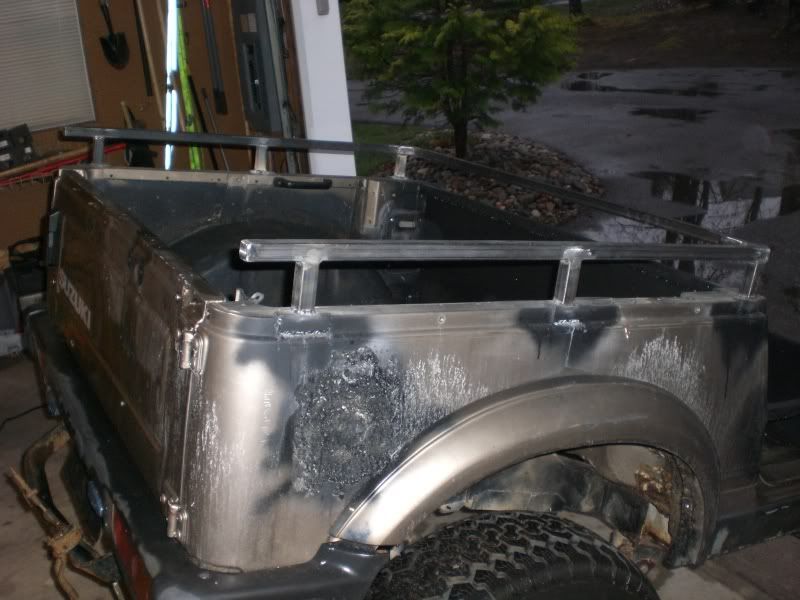 Had to use a tailgate straightenamafier before welding on the rear section of the rack.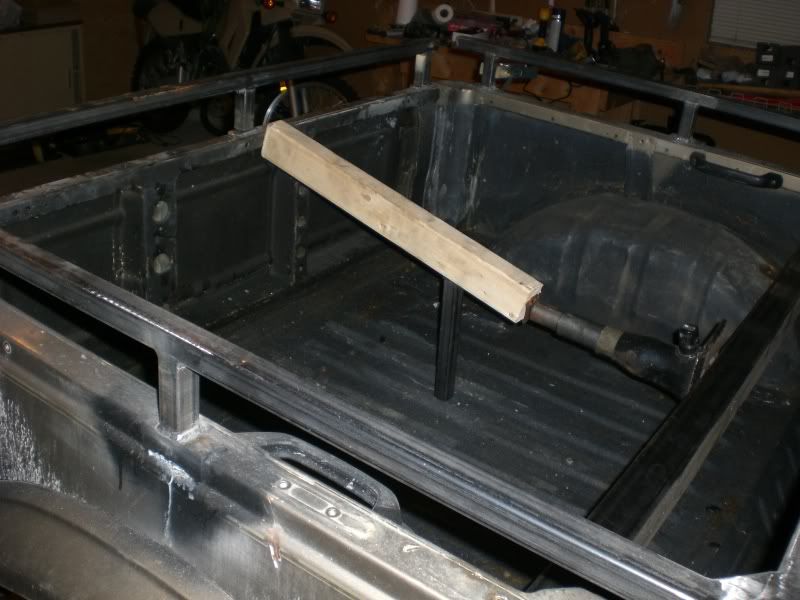 And heres the rack finished ( i think ) and where I left off tuesday.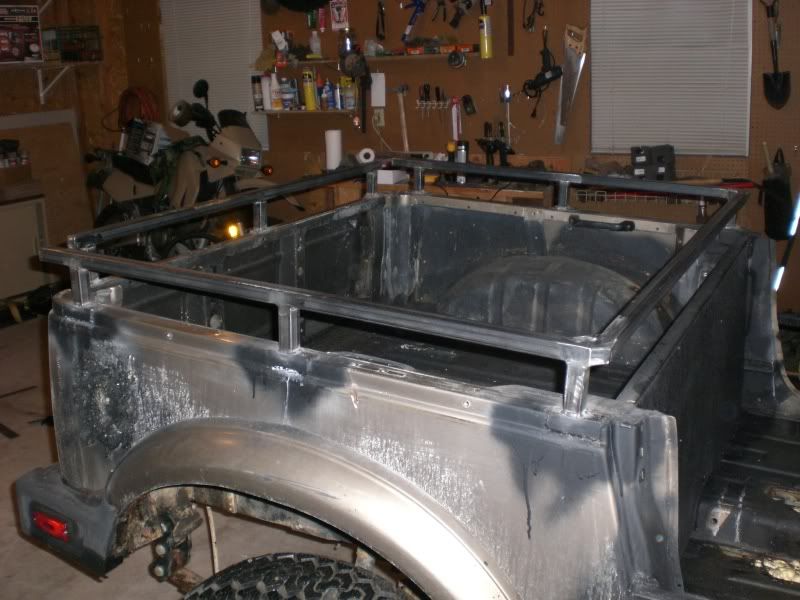 I have been thinking about building a platform for one of those cool rooftop safari type tents. I have to find a tent to build it around though. My current tent is 7x8 wich is way too big. I would like to find a 5x7 or even a 4x6 tent for cheap and then go from there.
I have no idea what is on the ajenda for tomorrow (wednesday)...
I will be towing it with one of the following.