Hi all,
What a great forum you have here. I'm early on with my cargo trailer renovation and have already learned a ton from this place as a lurker. I think I'll start a build thread over in the appropriate forum.
A little about me:
-This is my first build project. It's a 14', 2014 cargo mate trailer. (Does that count as tiny?) The basic theme is minimal complexity, but decent materials and aesthetics so my girlfriend doesn't break up with me. I'll put more info in my build thread.
-When I was 13 my family (4 of us) spent a year living in a 5th wheel, 4 months of which was on the road around the US. So I have at least a clue of what I'm in for.
-I currently live in beautiful Santa Fe, NM, but I'm originally from California (a couple valleys over from Death Valley, in the southern tip of the Sierra Nevadas).
-I once helped my dad build a house, so I have beginner-intermediate construction skills. But I love learning new skills and have an appreciation for the investment of time required to get them.
-I have a degree in mechanical engineering... which, come to think of it, might be a point against me when it comes to actually building stuff in the real world.
-I mostly do 3d animation these days for work. I hope to be able to give back to the community with 3d modeling knowledge, which I'm excited to see you guys have an area for. (Here's a link to a rough draft 360 video I did of my trailer:
https://youtu.be/bm4ialGsWo8
)
Let's see if I got the picture uploading deal right - this is a shot of my trailer as of 20 minutes ago: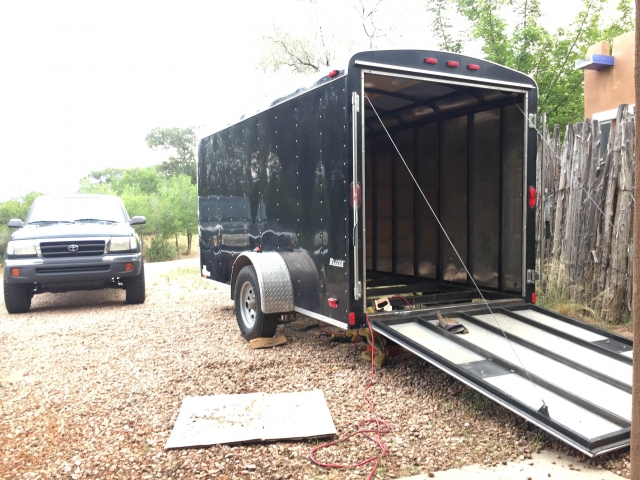 Cheers all