In the 70's and early 80's, my folks would pack up the station wagon (my siblings and I always fought over that backwards facing seat in the rear) and we would go camping during the summer. We had a huge, heavy canvas tent that housed all 6 of us. I recall those trips fondly now, though I'm sure I hated them at the time. I have an 8yr daughter and a 5yr old son I would like to give the same opportunity. We've been camping a few times, but the boy is just now getting to the stage where we wouldn't have to chain him to a tree to keep him from wandering off, lol. Both kids are in scouting programs and lots more camping is on the horizon. However, I turn 50 this year and sleeping on the ground is something that brings more pain than enjoyment.
About a year and a half ago, I was finally able to achieve a dream I'd had since the 70's--I acquired my first Jeep (an '03 TJ Rubicon). From that moment, a camping trailer was on my radar. But the price of a new is way beyond my reach, and I rarely see used ones at a price I could afford (not to mention they get snapped up pretty quick around here). I've watched a ton of youtube videos and scoured the instructables web site for information on buildnig my own, but the one place where I consistently found good information was right here on TNTTT. So I've been lurking, reading and learning for over a year.
I had also spent that time scouring Craig's List, local ads, garage/estate sales and flea markets for a utility trailer that I could build on. This weekend just past I got lucky on and was able to pick up a 4x6 Northern Tools utility trailer that already had a wooden box on it for less than $200.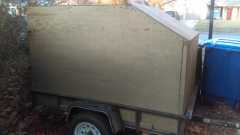 The wife is less than impressed with it at the moment and says she would rather sleep in a tent. I showed her some builds from here she said if I could get it to sleep all four of us comfortably, then she would use it. So that's my goal. I'll probably have to go the TTT route rather than try to make it into a TD since at only 6 ft long, there's not much room for a galley. We have an overnight camp out coming up the first weekend of February (just the boy and me), so it'd be great if I could at least get it sleep-able by then. My real target is week-long camp with a local group at the end of April. It's going to take a lot of work and I'm still short on money (and time), but I'm really motivated to get this done. So much so that I decided to finally join TTT so I can ask some of you questions about your builds that I had no reason to ask until now.

I do plan on putting up a build thread once I get a few things ironed out (I find those to be very helpful!). So, hello from central Texas and I hope you don't mind my questions!
Z