Whilst looking for a cool upgrade from tenting to something more comfortable but still fun we came across the whole TD idea a few months ago. It's been in our dreams and thought ever since.
Two weeks ago we stumbled upon a nice affordable trailer that we thought would be perfect for the job. What the "job" would look like, we didn't know at the time but we bought it anyway

Now, two weeks into the drawing stage I'm a bit worried about the dimension of the trailer in relation with the TD we want to build. Especially, the ratio between the wheel base and the total height of the build.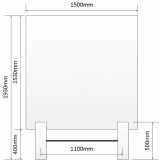 Sorry, I live in the metric world

The total width is about 59" total height: 76" and the wheel base: 43"
The TD profile I'm aiming for is a Grumman inspired one with a length of about 10 feet without the drawbar.
I would really like your input on whether this would work.