Long time lurker, might have even been registered in the way back.
I have been living in my RV since I was wrote off back in 2011, but since I haven't 'lived' up to my expiration date, I find myself back here for another bucket list checkoff...a teardrop build...or a reasonable facsimile, thereof.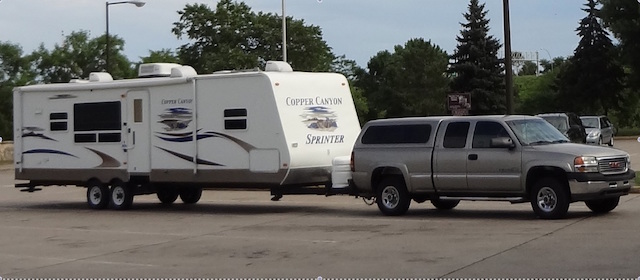 I needed a proof of concept before I sold my 01' GMC Sierra 2500HD Duramax/Allison, that I could actually pull and 'stop' a 1000 lb dry weight teardrop, so I rented this one:
I pulled it from the half way across Tennessee to the hills in the East, then I pulled it to New Orleans and back. I took the queen size mattress topper off of my bed and put on the stock cushions....along with the AC unit this provided what I was striving for....a good nights sleep.
So? What am I looking to accomplish?
1. a comfortable bed for two, queen size or two twins
2. AC, actually this should be first.
3. NO SET UP, NO TEAR DOWN....okay....minimal....
4. no climbing over each other
5. ability to have 'stinking' potty inside
6. ability to stop at rest area, and not leave the parking spot, and hit the potty, or make a sandwich, grab a drink, and sit down under the fantastic fan and eat it.
7. cooking inside or attached to camper not necessary...although cooking is very necessary....probably won't use Dutch Oven for award winning cobbler inside nor attached. But....will use it.
8. weight max dry unloaded 1000 lbs, using my TSC 5x8 stock trailer, mesh bottom, open sides, mesh ramp ( either will remove ramp, or shorten it and make it a permanent horizontal feature....a little stub....either part of floor or a wire back porch), also, would like to make module removable if I can figure out how to cheap and quick enough....or likely not.
9. tow vehicle 2013 4 cylinder Chevy Equinox.....( pulled a Rustic Trails Papa Bear about 2500 miles, dropped about 5 mpg)
10. limited funds...do have plenty of stuff and tools and plenty of time (maybe) (useable time is always a guess)
11. time crunch....working past expiration date
12. Full standing room is not necessary, but enough height to be able to lean against the wall and pull up pants while hunched over is a must...must have ability to sit with at least somewhat feeling like in a chair and top of head is not touching ceiling.
13.....of course there is more....but...this is only the intro...not the manual.
Unless the world....or my world comes to an end....the saga begins and I will have some kind of ( something hooked up sitting on top of my utility trailer that I can sleep in)....
Foam...seems to be the answer...and something close to ScottE 's build seems to be what I am leaning to. Of course I am heavily influenced by a bunch of other builders....names to come later....
I will start my build post as I don't have time to wait....I don't have a name yet....but....it will resemble a big bare essential unit....shrunk....
Look forward to meeting some of you online finally (seems like I have some of you for a very long time)....and pulling next to some of you in a campground somewhere.....soon.....
Craig