I've been dreaming about a teardrop for about 2 years or more.
I'm in the South East and my wife and I are avid adventurists (or aspiring) and we have always done mostly car camping in my 2000 Toyota 4runner.
I think the first time I decided I wanted one was when I saw one at a small local car show in Tryon NC and a guy had built his own one and was a beautiful classic tear.
I thought that maybe that had one with a bit more travel and could go "Overlanding".
Sure enough I saw plenty of picture outs there with lifted Teardrops and that's what got the creative juices going.
I'm getting started in the design phase at the moment and have been researching heavily for the last 4-5 months now.
It got started when I found a perfect trailer base locally here from a guy who had started to build one but life got in the way and decided to sell the rolling chassis.
My design is going to be simple and minimalist. I don't want a lot of stuff and I want to feel like we are still "camping" and roughing it out as we like to find primitive camp sites in the woods.
This would require being able to take the trailer offroad.
Inspiration was taken from Oregon trailer who have been very helpful and have answered all my questions on the building technique.!!
Also deign input from Timberleaf trailers.
I'm also an Engineering student and plan to use this build as a project for the finals capstone. Unfortunately it makes me have to slow down and not just jump into the build as I need to plan and document everything.
So far I have been using Autodesk Inventor for the design work.
Great program as I can build every part and then assembly them.
Here is my current design so far.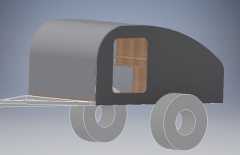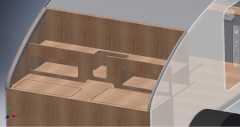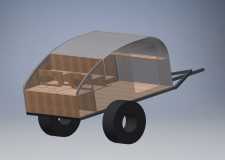 Very excited about this build and there is loads of info on this forum which is a big help so far.
I'll be starting a build journal pretty soon once I get closer to finishing up the designs a bit.
Also I work full time so in between work and school I'll be working slowly on it.
My hopes is to have it close to being finished by next year but that may be asking a lot.
Cheers for now.