Well, I did it, I bought a $50.00 1979 "Venture" Popup, so that I could clean off the old camper (really bad shape) so that I could re-purpose the frame.
Wife and I worked 9 hours straight, yesterday. Got it down to the frame and a big mess piled up on the sidewalk.
Some surprising build techniques were employed. The side walls were stapled on, not bolted, or nailed. The two ends with curves had only what looked like really thick cardboard under the aluminum curves.
Someone down the line had employed paint/cloth to try and repair leaks in the roof, both outside and inside had been given various PMF treatments.
The original heater had been gutted long ago, the fridge, just an ice-box. The 3/4 inch plywood floor was attached to the frame directly, via a few self tapping square head screws! Was a bit surprised, as the "Venture" line was the "upscale" version of Starcraft?
The camper smelled really bad inside, once everything was out, the smell remained, out on the sidewalk...ICK!
Now the hard part..what to build? It will be for me on Solo photo adventures...tend to like the idea of a standie better than the thought of only being able to crawl around.
I am terrible with sketchup...don't know how you folks create the plans...guess I will need to learn sketchup, first?
Some Photos: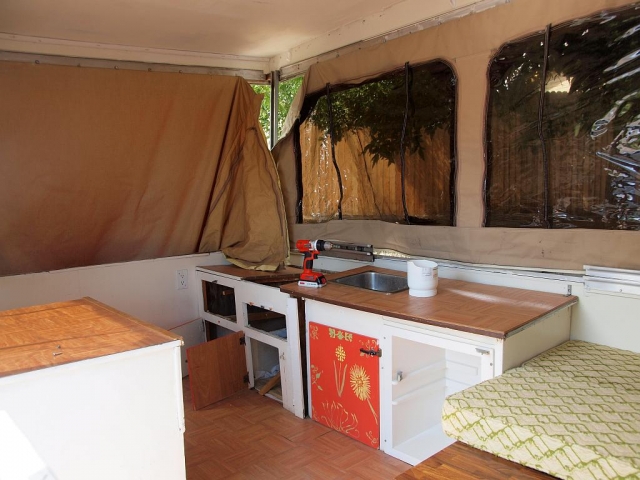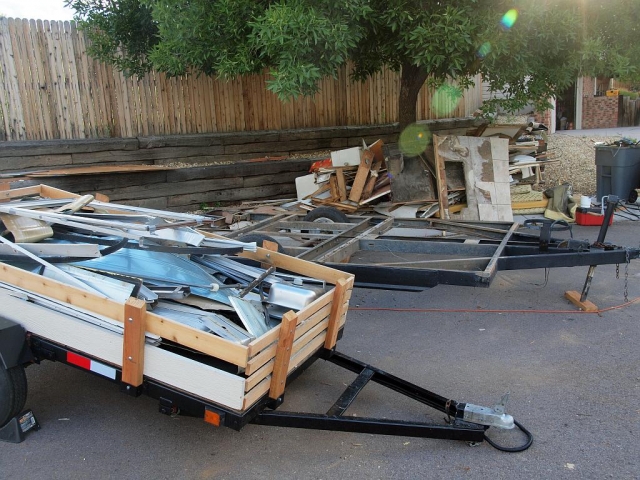 The HF trailer is loaded with with the Venture's metals...we got a whopping $30.90 for the metal.
Cheers from Colorado...