Hey all,
PlaidCat here. I'm an old gal living in Prince Edward Island, Canada. I've been lurking, reading, and learning here for a while. What a wealth of knowledge you all have!

After thinking about a CTC for a long time I'm finally going for it. Using many of the suggestions from all of your "wish I had done/gotten this" posts I ordered the trailer today. It should be here in a couple of weeks.
This is what's on order:
*All Aluminum Construction
*2″ x 5″ Integrated Frame
*12" Extended Tongue
*16″ o/c Floor, Walls & Roof
*36″ Wedge Front (19′ Inside)
*Tandem 3500 lbs Dexter EZ Lube Axles
*Electric Brakes on Both Axles
*Double Rear Barn Doors
*32″ x 72″ R/V Side Door w/ Flush Lock & Deadbolt (pushed back as close to fender as possible)
*18" x 24" Window in Side Door (tinted, opens side to side)
*16′ Catwalk w/ 4 Ladder Racks & Ladder
*Rear Ladder Roller
*(2) 26″ W x 6′ L Aluminum Stow-Able Ramps
*ST205/75R15LRC Radial Tires
*5 Bolt Galvanized Wheels
*Interior Height (79″)
*3/4″ Advantech Flooring (waterproof)
*3/8″ Advantech Walls (waterproof)
*3/4" Foam Board (Blue) Insulation (Ceiling & Walls)
*White Luan Ceiling Liner
*24" x 36" Egress Window (tinted, driver's side, opens side to side)
*1 Piece Aluminum Roof
*(2) Interior Lights w/ Wall Switch
*All LED Lighting
*Bonded Aluminum Exterior
*Plastic Salem Vents
*24″ Stone Guard
*(2) Non-Powered Roof Vents
*GVWR: 7000 lbs
*Empty Weight: 1630 lbs
*Payload: 5370 lbs
*Limited 4 Year Warranty
This is what I plan to do with it: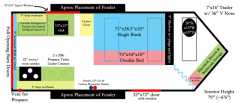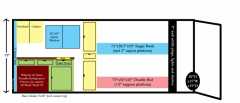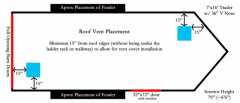 I'm very comfy with the building bits and can muddle my way through the plumbing, but am pretty much a newb when it comes to electrical.

I'm willing to give the running of wires a try but I plan to have the solar system installed by someone that knows what the heck they are doing so I don't cook any panels or batteries!
Now, I need you all to help me find the weak spots in my design ideas! Questions and suggestions are encouraged.