Nice! I rode one of those RT's a couple hundred miles, damn nice scoot although it wasn't in that kind shape. I got invited to ride with the Bandito's local club the Hermano's as their Sgt.at Arms was my neighbour. I'm a Lone Wolf, never needed that kind of trouble. I can find my own just fine. Anyways, I rode about 120 miles with them to Medicine Rocks on my 99 Chief, and we stopped for refreshments and I told my neighbour I was gonna freestyle and sneak out. I bought the boy's a drink on my way out and headed back to this little town to gas up about 65miles of dirt county road. I got some gas and when I walked in the bar the waitress came running up and said there was an accident at Medicine Rocks. So we got in her car and went back there and the Meat Wagon was already there. Seems the guy who rode the RT decided to do the Indian Larry seat surfing thing and blew the dismount. His foot missed the peg and he put his foot down to the dirt and it sucked him right off the bike at about 50mph. Liked to tore his foot off. The bike just kept on trucking straight down the road till it got slow and fell over, so I picked it up and rode it back to his place, about 150mls. He is a single Dad and has twin girls about 15yrs old so I got them squared away and we drove to Rapid City hospital. He was already out of surgery when we got there. 2 weeks later he was walking just fine. Lucky Dude.
That's one of the best re make overs I've seen on that Buell. That reminds of the old Café racers from late 70s. I ride a Street Glide screamin eagle and its got the WillyG. pkg that has skulls on the chrome. I'm not sure that they are bad luck, but I can get enough of them, a little goes a long way. But hey, nice stable of ponies there. Maybe we'll cross paths someday. Here's a shot of my rig.
No wait, that's not it. This is mine in the spring.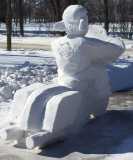 and in the summer.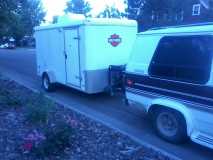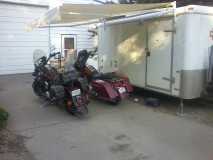 McDave