We just picked up our new Cross 6x12 V-Nose to convert into a camper/hauler. We've been looking at trailers for weeks. We wanted a good quality trailer that we could afford with 6'6" interior height, camper style door, walls and ceiling at 16" on center, LED lights, and a ramp. Living in far northern Minnesota, we knew we'd have to drive for hours to get what we wanted. So today we took some time off work and made the four hour drive to the Twin Cities to pick up the perfect trailer for us. Here it is: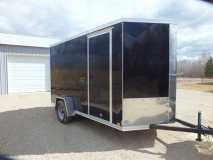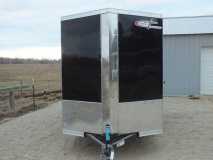 When we were about halfway home we decided to pull into a Menards for some foam insulation so that we could get started right away. About a mile from the store a Chevy Suburban ran a red light and t-boned the pickup next to us with such force that he smashed into us. Unbelievable! Here's how that worked out for us: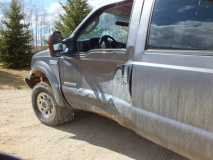 We were lucky though, no one in any of the trucks was hurt and our new trailer was unharmed -- not a mark on it. And, we were able to drive the remaining 150 miles home. "Built Ford Tough" was true today!
We've got a layout plan on paper that's been reworked and tweaked countless times. In the morning we'll get busy with some masking tape and see how it looks in reality. We're really looking forward to the whole project! Stay tuned...