Edited Since I found out how to insert Photos....
I'd like to share what I have done to a 2018 Ameralite Trailer. I've opted for a slightly different floor plan than most choose after much thought. My last project was the "Grumliner" step van (
https://grumliner.tumblr.com/
). I learned a lot from the way I laid that floor plan out, then adjusted when I downsized into this trailer.
Here is a view looking forward: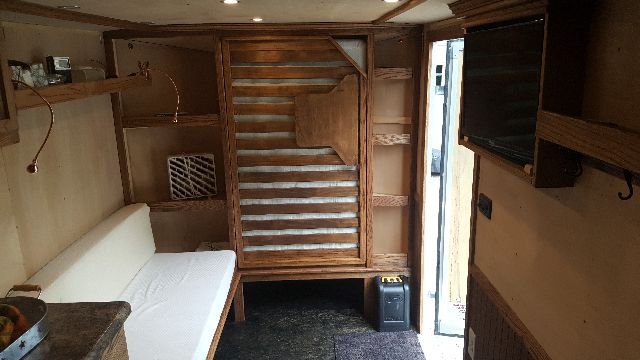 I wanted to retain a level of "toy hauler" such that I could haul at least one toy, and still sleep, even function easily in a Walmart lot overnight without unloading anything. So with bed down, I have a 48" x 80" area, which handles one of my scooters or one small ATC. If I do not have to sleep in it and haul, this floor plan lets me ultimately haul anything that will fit in a 4' x 12' section when the bed is folded up into the Nose, and I have even more space if I fold up the bench on the wall.
I had a rear bed/dinette in the Grumliner, and hated the fact that the bed was always between the use-ability of the truck and the rear ramp door/deck. And, making the bed in it was difficult. My new "nose bed" method allows me to toss all the bedding onto the shelving in the nose and flip the bed frame up in seconds ! Another advantage has been that the wife's dog can sleep ON the lower shelf in the nose next to her instead of on top of us. And, now we can walk between the rear deck where we hang out a lot, into the trailer easily for sink, bathroom, food, drink and snack demands.
Here is a shot looking backwards down the drivers wall:
We found that counter space was a must. Nothing worse than these new campers that have a sink and stove next to each other and no where to put anything. I will be adding additional counter space via a tip down narrow shelf along the passenger side at some point.
In teh far back is a potti room with a microwave above it. So far, it has worked out very well.