Alright, so this is the build journal.
I bought a new custom 7x18 EZ Hauler with the windows, the roof vent, cargo doors and the AC support already in, and the stabilizer jacks on the outside. Then my unusual request for the rear door to lift up, tear drop style for a rear kitchen.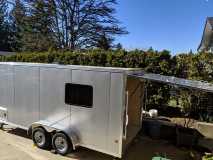 The exterior drivers side. You can see the rear door open up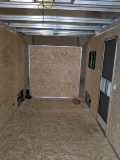 The inside all blank and ready to go. First up, Layout. Second, take of the corner trim and insulate the ceiling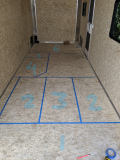 Layout.
1 = rear kitchen
2= dinette seats
3 = dinette table
4 = bathroom
5= clothes drawers
6= queen bed
Not picture, two bunks, one above the kitchen, one above the queen bed and cabinets running front to back.