Been lurking for a few years and am finally getting around to working full time on my build. Purchased a Neo NAMR V-nose cargo trailer in June 2018. On the way to pick trailer up in Michigan, I saw this sign off the side of the interstate in Kentucky. Not sure what a "used" cow is; must be a Kentucky thing. I guess if you have race horses you can have used cows.

The trailer is a 2019 Neo NAMR 7x16; upgrades are:
-- 7' interior height
-- Frame is 16" OC on walls, floor, and roof
-- Two roof vents
-- Awning
-- RV Side door with screen; moved back as far toward wheels as they could
-- Torsion axles with electric brakes on both axles
-- .040 siding upgrade
-- Side door entry step
-- Scissor jacks front and rear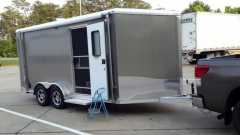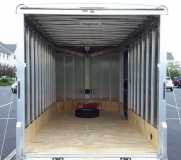 The plan is to leave trailer as "stealth" looking as I can. The only windows will be in the rear of the trailer when you open the ramp door. I plan to use the ramp door as a porch and there will be an interior wall with two casement windows and a full glass/screen storm door for light. It's amazing how much light comes thru the two roof vents. I am sure that will change some when I install the two MaxxAire 5100 Fans.
So far, I have the insulation done. There is between 3 and 4 inches in roof (roof has slight arch so more in middle than the sides). Two inches in the walls and 2-1/2" in the floor.
Currently, doing a "test" on an interior window A/C idea to see if the louvered sidewall vent I am planning will work for intake and exhaust for the A/C. The test is going good so far; we've got some 100+ heat index days coming up the rest of the week; will be interesting to see how well the 6,000 BTU Frigidaire keeps up. More info on the test can be seen here:
viewtopic.php?f=42&t=72833
Now, I down to the dreaded first hole cut in the sidewall. Super nervous about that. Already have one screw-up from the inside where a screw went thru the side wall. Right now for the time being, that screw up has a gorilla tape band-aid until I decide whether I want an access door there.

Harry