Hey guys,
Instead of continuing to ask dumb questions in new threads, I figured I'd start my own little build thread.
I expect it'll take me a while to get it all built as I really only have a few evenings and some weekends to work on it, but I am excited to use it nonetheless.
Some things I plan to do:
• Insulation – 1" Polyiso in the walls and ceiling. I did batts in the ramp door because I already had some R13 batts that according to a chart I found should be about R8 or so once compressed to 2".
• Dual hose portable AC, or possibly window unit after seeing others doing that, but in either case, it will need to have a dehumidify only feature to use during cold weather. Rooftop is out as you can see this thing just barely clears my awning and I want to be able to do a spring over axle as well, so that's gonna be tight.
• 20X30 horizontal RV window in each side and one in the door that is vertical.
• Permanent twin bunks for my 2 boys.
• Chem toilet and no shower as of now as the places we ride all seem to have nice ones.
• Room for 3 dirtbikes and 1 ATV (Wife's, sigh..)
• 30A Shore power.
• TV, radio, Microwave, portable induction cooktop.. and I am sure many other things I haven't even considered yet.
Home from the lot and the cleanest it will likely ever be again.
Insulated the roof and then started on the wall panel removal.
The hell nails nearly killed me. I made it a goal to get one panel done and day during lunch or after work and I usually did, but doing that without destroying them nearly destroyed me!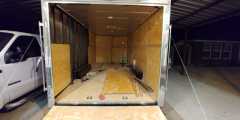 Started insulating before I finished all the panels because I just needed something other than those nails to work on for a while.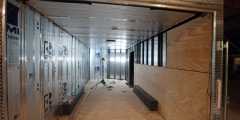 All the insulation in except for the side door and possibly doubling the roof once I get the furring strips all in. Lots of taping and foam left to do still..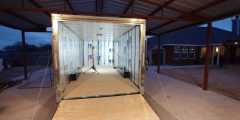 Masking tape layout to get Wife and Kids approval of design with bathroom and their bunks in the front.