I haven't been on here in a while. Just too busy enjoying the camper to post. Sorry about that.
My son and I went to Moab this year for the 50th anniversary of the Jeep Safari. It was a blast! We left Buffalo in good weather, Buff to Casper great, Casper to Rawlins not so much. Around Independence Rock the roads turned horrible and by Muddy Gap they were nothing but ice. Made it into Rawlins, did ad a little double tow drifting to the gas pumps and filled it up. Asked the lady at the station what the conditions were to Baggs and she checked for me. The roads were closed east of Rawlins but cleared up just west of town. Rawlins to Baggs good, but I stopped in Baggs to get fuel and said "no way!" to those prices. I checked my trailer connection and was glad I did. One of the hitch pins on my tow bar had lost it's clip! I was moments away from losing the car and the camper! Vise Grips fixed that until we got to the ACE Hardware in Craig.
Craig to Moab went well The old 1-ton just purrs at 3600 rpm. Thankfully fuel prices were down!
Got to Moab and hooked up a friend who had got us a camp spot. Took me few to get camp all set up. Unhook car, install driveshafts, back in camper, etc.
The first day we headed from camp and went down Pucker Pass and headed to the Poison Spider Mesa trailhead. Just a minor contrast between our 2 crawlers.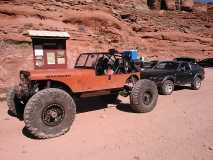 I usually like to warm up with something a bit easier than this for my first trail, but after a few minutes I right back in Moab mode.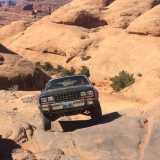 More to come!