The camper is still not finished, but we took our annual vacation in late August, so I thought I'd share a few scenic pics. See the parallel post here in my build thread for some pics from the
2016 Ross Hill Gathering
.
We spent 3 days in Northville, NY located on Sacandaga Lake located at the base of the Adirondaks.
We did a lot of driving around looking at scenery taking pot luck looking for destinations suggested by our GPS, doing wine tastings at several venues, poking thru a few antique shops and just generally taking some time to relax.
Not a lot going on during the week in this sleepy little lake town, with most venues, including restaurants, not even being open Monday or Tuesday.
We did enjoy the food and service at Jay's Fine Dining. The dining room was located under a canopy on the front deck of what must have once been a snack bar/ice cream stand, and there were some pesky flies right at dusk, but the view of the lake was nice and the food was good. For the NY strip steak you had a choice of bourbon sauce, blue cheese or sautéed mushrooms. I went with all three.
Feeling like an after dinner cocktail we went to a joint called the I Go Inn. They sort of had a tiki/Caribbean theme so a daiquiri seemed to be in order. When they brought me this monstrosity and asked if I needed anything else, all I could say was, "yes, a spoon". It was ridiculous, like Richard Dreyfuss' Devil's Tower creation in Close Encounters of the Third Kind. There is a couple of inches of whipped cream under the umbrella but the rest is frozen slurry. Got total brain freeze but very little buzz, as there was no more booze in it than a regular size drink. Not really recommended.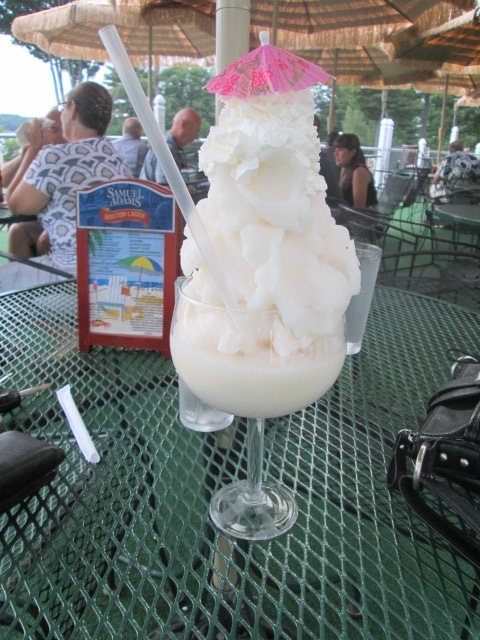 The Saratoga Winery had this cool old Diamond T firetruck as yard art out in the parking lot.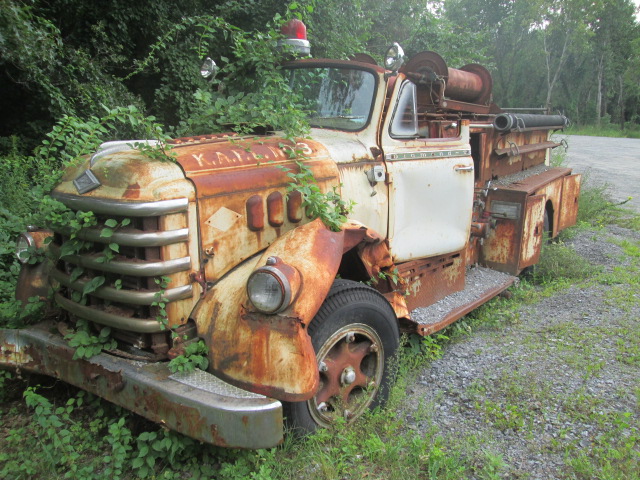 The mural near the entrance…
…reminded me of the mural that was added to 2bits LT after he sold it.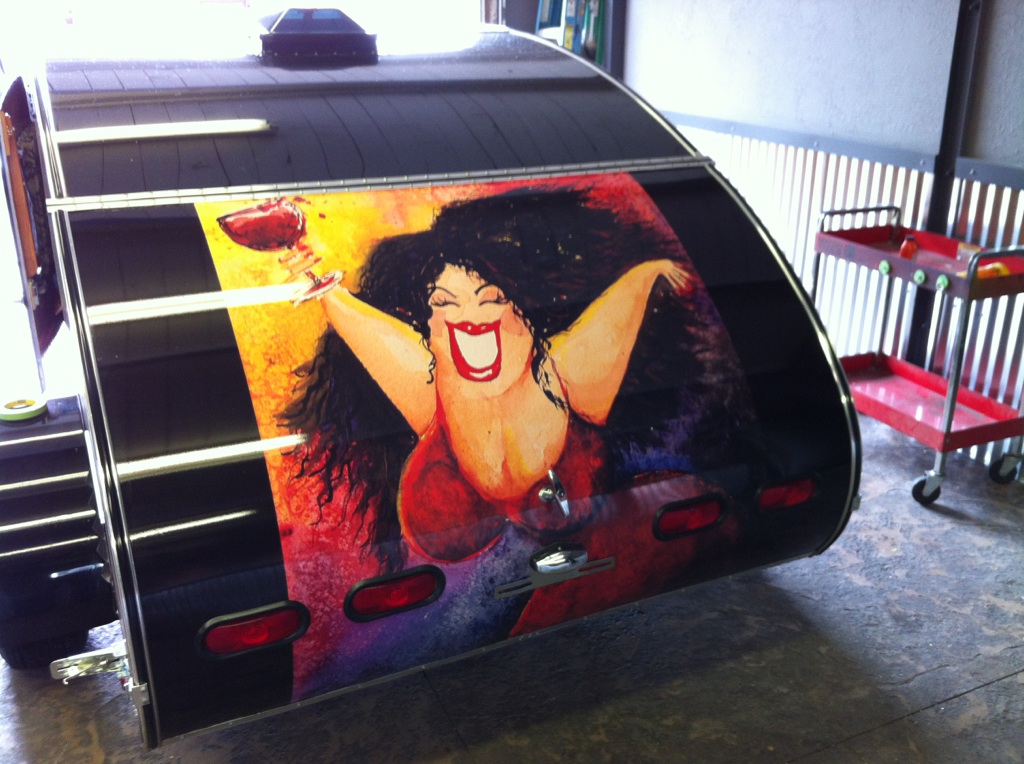 - Sharon's pic, I think.
Most of the wines in the region seemed to be a little on the sweet side, but I suppose that could just be because they are catering to the tastes of the masses.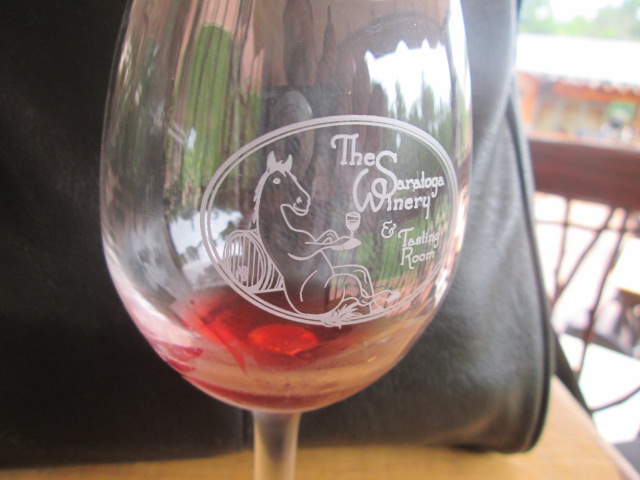 Not sure where this was at, but it was just below the spillway to a hydroelectric dam in the region.
Sunset from the lawn at The Inn at the Bridge.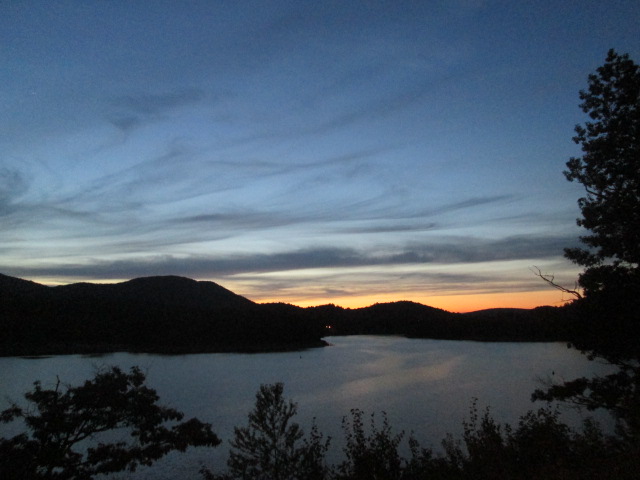 For the last evening of our trip we moved south to Nanuet, just across the Tappan Zee Bridge from Sleepy Hollow, NY. I wanted to drive along the cliff road that skirts the Hudson River just north of West Point, which I had seen from the river on a few occasions. We found it, but it had been permanently closed, presumably for safety reasons.
We went to a decent Mexican restaurant (
El Bandido
) for dinner, but it was so loud in there with packed house and all hard surfaces that we could barely stand it. The wait staff seemed to mostly just be going thru the motions trying to move as many people as quickly as possible, but the drinks were good and the food was okay. They gave a free (small) cheese quesadilla appetizer along with chips and dip, and a free banana chimichanga dessert at the end, so it wasn't half bad, but loud.
The next morning we went across the Tappan Zee Bridge (… it was cool seeing the new cable stay bridge under construction…) to Tarrytown and had a nice breakfast, a Mexican roll, sitting out on the café at a local bakery. We wandered around the shops there, which reminded me a bit of SOHO, but smaller and with more restaurants.
Next we went and did a self-guided tour of the Sleepy Hollow Cemetery, made legendary by Washington Irving's famous book, The Legend of Sleepy Hollow. Saw his grave, along with William Rockefeller, Andrew Carnegie, Elizabeth Arden (Graham), Leona Helmsley, and Walter Chrysler. Walter had a large corner of the cemetery all to himself with winter views of the Hudson.
Here's the Old Dutch Church.
Here's a restoration of the Sleepy Hollow Bridge followed by a selfie on the bridge.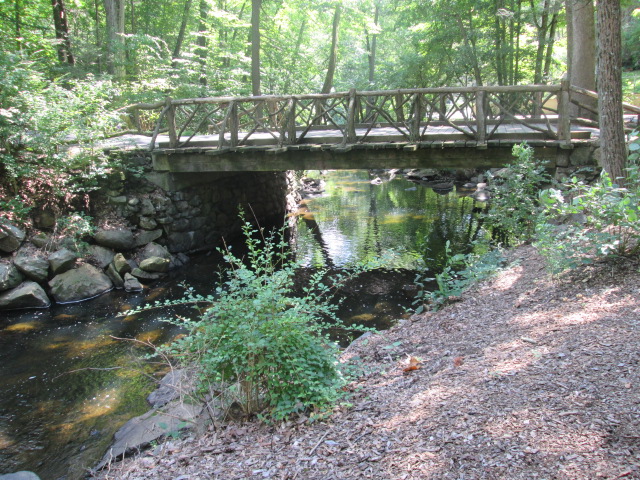 It was kind of fun, and Yvette seemed to really enjoy it.
From there we had a great lunch at the
Bridge View Tavern
looking back at the Tappan Zee in the distance. Great food and service. They had some unusual house made selections in the meat department, too, including smoked items, wild boar sausage, and bison burgers.
From there we headed home. We knew when we planned our agenda that it would be hell driving north on I-95 from NY on a Friday afternoon/evening, and it was. What should have been a 2-3 hr trip (w/ stops) took us more like 5 hrs with traffic not freeing up until we got as far along as Old Saybrook.
Whew. There were a lot more pictures and I'm sure I'm forgetting plenty of details, but for the most part it was very relaxing. So much so that the first day back at work I was asked if I was okay, that I seemed almost comatose or on drugs; nope, I was just relaxed.