Hello All,
I've completed my new convertible teardrop: it's an original design as far as I know. I'd appreciate and welcome comments on it.
This TD is symmetrical front and rear, so I call it a "Gumdrop Style" teardrop. I built the Teardrop as a separate module from the trailer, there are 4 removable "lifting jacks" that raise the module up and the trailer can then be pulled out from underneath creating a 3/4T stakeside utility trailer. The module is held in place with 4 hardened steel brackets with grade 8 bolts.
The galley features a removable 12 VDC cooler, a slide-out propane grill/stove, see-through sliding doors, 6 drawers, adjustable shelves, and the bottom cabinet door folds up for extra counter space. The locking hatch raises with 2 gas springs.
The interior is fairly usual with twin cabinets, 3 drawers, long shelf, and will accommodate a standard length mattress. The fusebox is inside the cabin cabinet are there are 2 LED lights inside, 1 white, 1 red.
The module is fully insulated with 1 1/2" foam top and bottom, 3/4" foam in the sides.
The exterior (as well as the trailer deck) is coated with Durabak 18, a polyurethane coating infused with recycled rubber bits. There are 2 small exterior lights on each side.
One battery box on the tongue carries a deep cycle battery; the other carries a battery charger, a battery maintainer, and extension cords.
Three locking storage boxes mounted beneath the frame carry wood blocks for the stabilizer jacks, folding wheel chocks, a trailer axle jack, tire changing tools, door mats, and a plastic table that quickly mounts on either side of the galley.
As this is my first attempt at a Teardrop style trailer, I'd really like to know what you all think of her. I hope the pictures work...
Thanks again for your comments.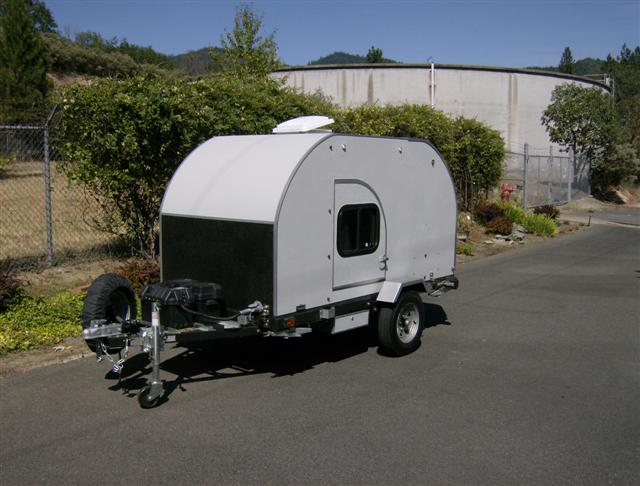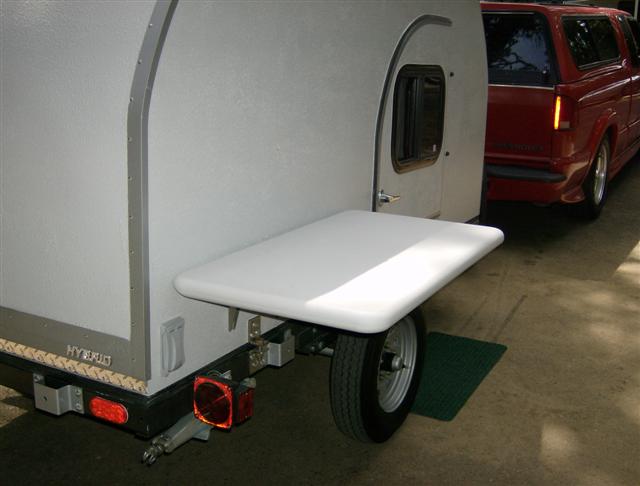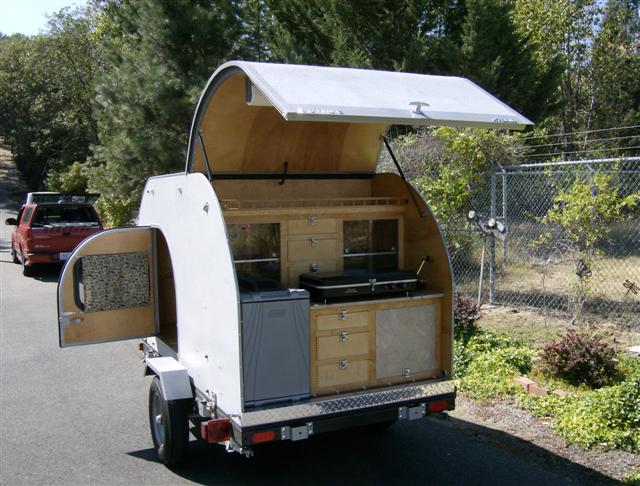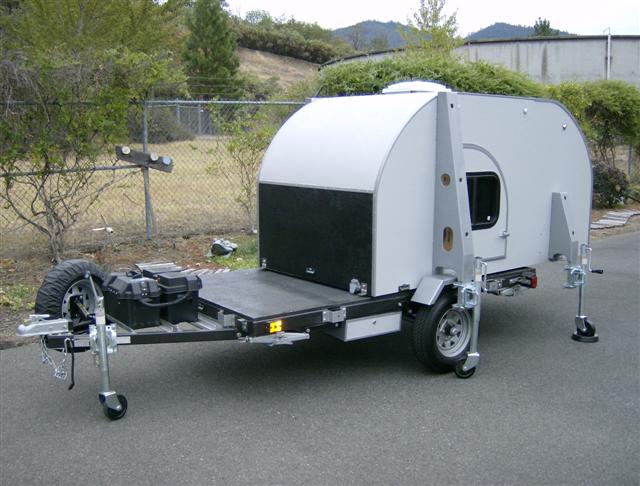 [/img]