I am going to base my recommendations on our experience and learning the hard way first you need to see Teardrop #1 and #2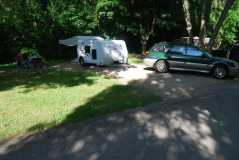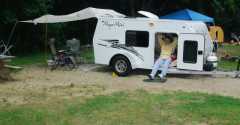 Note no tongue box=a LOT less storage! this only had one door and a number of other limitations but had lots of cabinet storage space which Nancy Loves.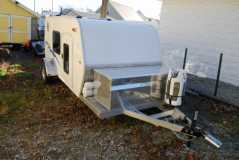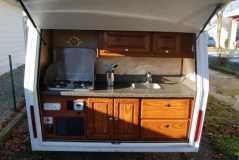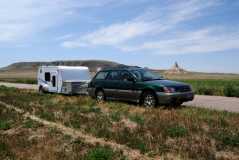 #2 Nancy designed the kitchen cabinets and I no longer have tongue box envy.
"I was wondering if anyone knows...would a deep cycle battery allow me run the lights in the trailer, a mini heater on cold days and a single electric burner? I have never used propane and would honestly prefer never to do so. Growing up the house stove was gas and I nearly caught the house on fire more than once. I by far prefer cooking with electric. I do not think I am going to be doing a great deal of cooking, but for things like tea having a small burner would be nice. Something along this line
http://www.amazon.com/Proctor-Silex-341
... +in+burner ."
SC Anything that uses resistance heat is a no no they suck power in a very big way but are fine if you are plugged into a pedestal. When off grid we use a french press for coffee and the cook top, propane to cook.
Of the three the Teardrop NW has the engineering, cabinet space, and hatch design most likely to keep water out. However it does not have a converter, only a small battery maintainer. This could be corrected. Our tear is 6X10 and more space is good to have.
For others, she is towing with a Kia which is some what similar to the Out back and absolutely need brakes!