I didn't know where to go !
Cargo Trailer section ? Trailer build section ? NAH !
Tiny houses section seemed more appropriate.
We have discussed let in wind bracing here ! I have a vertical studded building so it is more a house than a composite sandwich trailer so here I are

After camping with Jeff (Nitrox junkie) I became somewhat jealous of all the cube in his cargo and being able to walk into a trailer instead of crawl. It truely amazes me that this trailer is exactly the same length and 3 " narrower than "Chubby" and yet it seems so damn big.
Started Sat at 8:30 with a flat bed trailer and a saws-all and by Sunday evening I was here.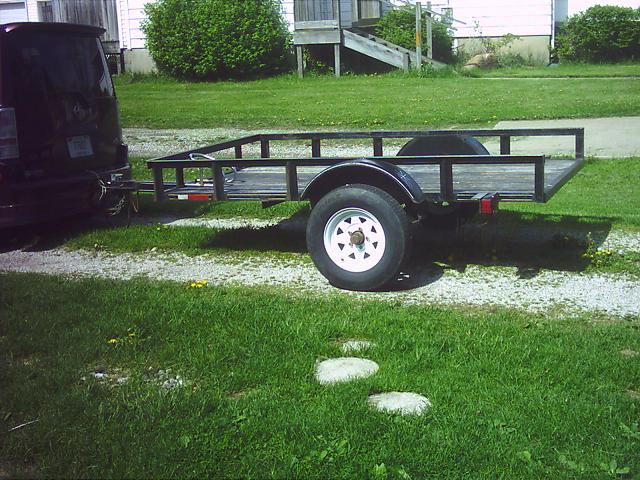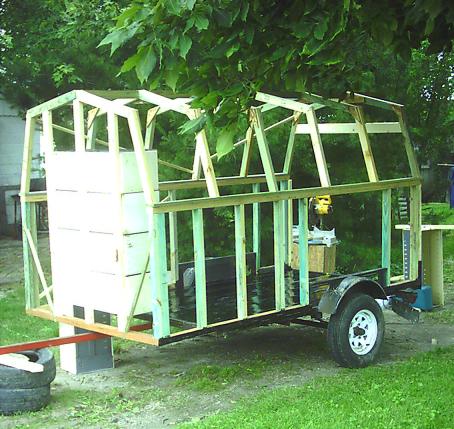 I have built some 100 - 150 mini barns so I am not in unplowed territory.
I did however have to make some provisions for wind shear at 65 mph so let in wind bracing was an absolute must.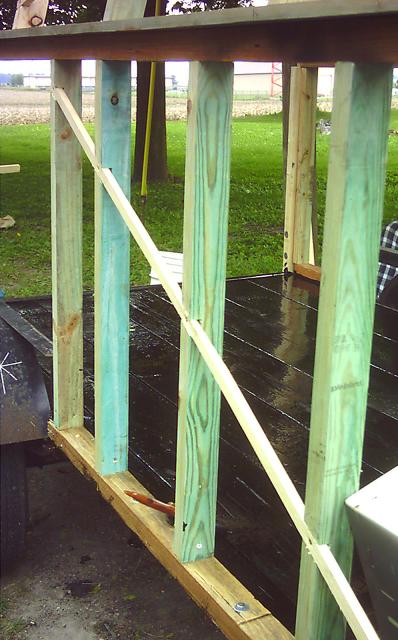 Thats my buddy Mark taking a much needed break. He worked as my gopher all day Sat and Sun.
Please note I am using the same garage I built Chubby in

Yep back in the driveway again and my neighbors have all been over to look and offer suggestions.
Here is an end shot where the doors will be. I put up the metal cabinets to get a sense of how big I can go I am on the hunt for some nice wood wall cabinets now 36 wide by 24 tall. Gonna stack them in the nose where these are. There will be 2 layers of 3/4 foam over the black goop and then a 1/2 osb or plywood sub floor and vinyl according to old what's her name. Walls and ceiling will have 3 layers of 3/4 foam except where the lexan see thru roof is at the very top . Yep SHE said so !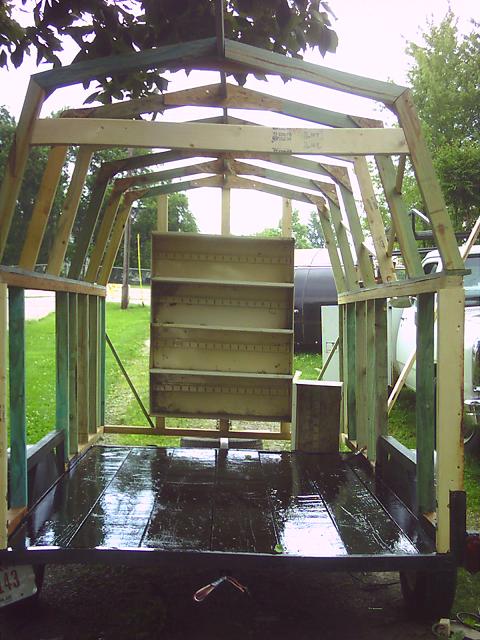 Galley door will be on the left and the walk in door will be on the right.
I will stub in a 30 " wide wall floor to ceiling taking up exactly 1/2 of the left side. A 15" tall by 27" long wall cabinet will be on the floor. and a second mounted to this wall . A let down counter will be mounted on the left door. We have talked about 2 matching medicine cabinets being mounted on the galley door for spices and smaller items.
I left the rails over the fenders and the angle looks to be a great support for an air conditioner. Thinking about a faux feed box over the wheels to house the a/c on curb side and a matching storage box on the other. I am trying to scale down a 20 x 40 foot barn so 1/4 scale is what I am working with. The ideas of Miniture barn lite windows and a faux sliding door or 2 all built to scale have been bounced around.
This WILL be campable by July 31st for Chain O Lakes OR ELSE !