Well I have chosen to document the "
tiny house in a building
" build as a seperate project.
I have tagged it into the caboose build long enough. This little house appears to be a real need . This effort has taken on a life of it's own, so I am going to treat it as a seperate build project and not as an anex to the caboose.
It started in may when I needed a place for my toys and tools and a destination for my furniture and personal items if my home short sold quickly.
I rented a 50 x 60 pole barn with 14 foot ceilings. It was a steal at $200.00 a month.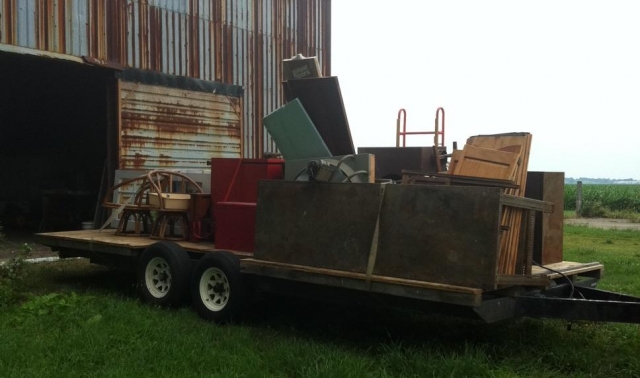 I was offered a one time $100.00 rent reduction if I were to clean out the junk left by the previous renter.
I chose to keep the junk and recycle it and or utilize these items or clean up and sell what was worth selling.
To date I have sold 3 nice steelcase office chairs at $20.. each and have 17 still to go. My dutch oven training seminar was presented using a nice fold up easel and white board I found in the "trash". Steel shelving that was left abandoned has been reassembled and will be utilized in my shop. Hundreds of ( yes hundreds no exaggeration) furniture casters will be used to make the shop space more universal and stowable when not in use.
I finally have inside storage for my toy trailers as well
A few of the broken office chairs afforded me a new and unique style of trailer tongue stand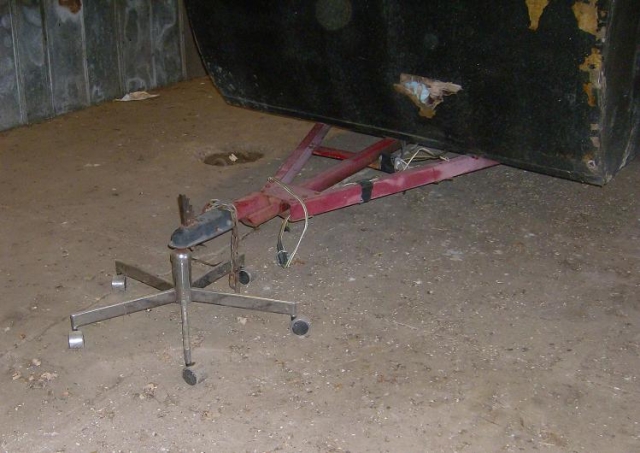 Chubby is 1850 pounds and rolls effortlessly on this stand.
The house plan ........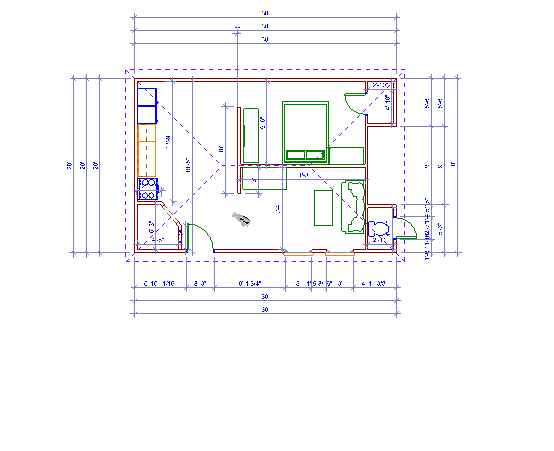 although listed as 20 x 30 you see a 4 x 9 insert between the porta potty "outhouse" my shop workbench will nestle there close to the electricity. Adding the bedroom closet makes the main house with closet 536 sq ft exterior to exterior of walls. Deducting the thickness of the walls you bring the inside square footage to right at 500 sq ft. This plan shows a main door and 2 windows in the front wall. As you enter and look right you see the living room with couch and coffee table. almost straight ahead is a large antique oak desk. As you look left you see a clipped cornered closet this will be the pantry or possibly later a gravity feed shower room. The stove freezer and fridge as well as counter space is on the left wall. As you progress around the tee shaped wall it is obviously the sleeping area. Furnished with dresser and mirror, the bed, and a highboy chest. The small closet is accessable by the bedroom area only.
The walls are 8' and framed at 24" o/c since no real roof or snow load will ever be seen by it. It will have a flat roof with some storage utilized up there. It may also see a 55 gallon water tank for the gravity feed water system.
Framing has started... the kitchen wall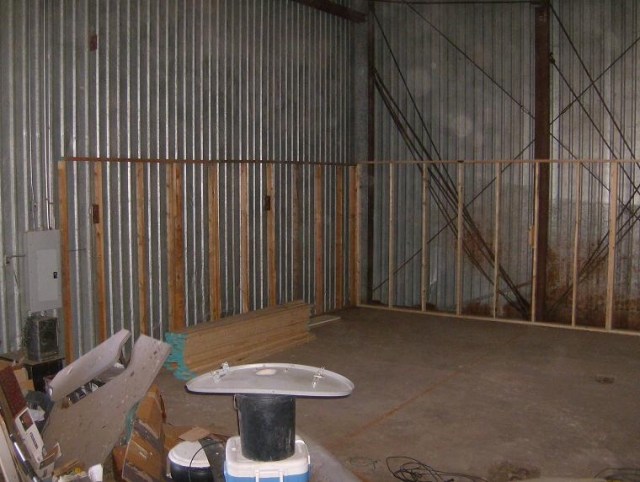 the back wall of the kitchen and sleeping area
and the right wall......
This pic is a little goofy as you look at it because there are unplaced walls leaning against the barn camper
you are seeing thru the stud bays.
The center wall has been redesigned to have double walls making a 10 1/4 inch deep neich for shelving. Two bays in the living room will be open for a center located floor to ceiling shelving unit for 46+ wide shelves. A similar bay will be in the bedroom right and left of the bed for storage as well. I figured the 75 cubic feet plus of storage was worth the 7 sq feet of floor it cost. In fact I just might do the same on the short tee wall in the kitchen area above counter height for pantry storage if the clipped wall closet DOES become the shower area.
A beam will continue beyond the longer center wall to the kitchen wall and it will help to carry the ceiling joists allowing them to be 2x6's rather than 2x10's or 2x12's since we are spanning 9'+ rather than 19' 4".
The exterior walls that can be seen in the building will be the T- 111 tongue and groove siding I re-clained from my large mini barn in the yard at the house ( The framing lumber is in the walls too). These "Exterior" walls will be stuffed with 3/4 or 1" blue foam ripped to fit in each stud cavity 3 1/2" deep. The plywood and foam are waste trash from work. ( I love free)
The kitchen wall behind the cabinets will be the osb reclaimed roof decking from my yard barn. This will give a good substructure for hanging the cabinets. Many of the interior walls will be clad using waste 1/2 plywood applied to look like drop siding.
I have 8-10 sheets of 1/2 drywall for other areas such as the closet and potty interior walls and maybe around the neiches making trimming much easier.
I have a beautiful 36" oval glass insulated exterior door I got by stopping and asking for the donation. The homeowner even loaded it for me. It will grace the front with 2 double hung vinyl windows salvaged from the mini barn. The blessing is that I have managed to gather most of the building needs long ago and will make this build extremely cheap.
Even if I am later allowed to live in my tiny house caboose this little building will be valuable storage to keep my better Junque out of the bird droppings that accompany large pole barn storage......
I hope to have some exterior shots of the front with door and windows installed later on this week.