I have something new in the works, fiberglass bolt-together trailer kits. Ones created from a modular collection of components easily configured into a range of trailer tub and body options. For keeping cost down, they are designed to use reconfigured readily available bolt-together frame kits.
Part of the concept is being able to build it in increments and upgrade over time to spread out the cost. Get your frame built up and running first. Then add a tub kit and start just it. Next if you need it, add a tailgate and cover? After using some, maybe; bigger tires, a folding tent unit, slide out kitchen, front rack? If your needs change, just reconfigure it.
They have strong Jeep styling and are designed to use many off the shelf Jeep parts. For those with a Jeep looking for a trailer, they are a natural choose. With their compact size and light weight, they will also work great while looking good behind any vehicle.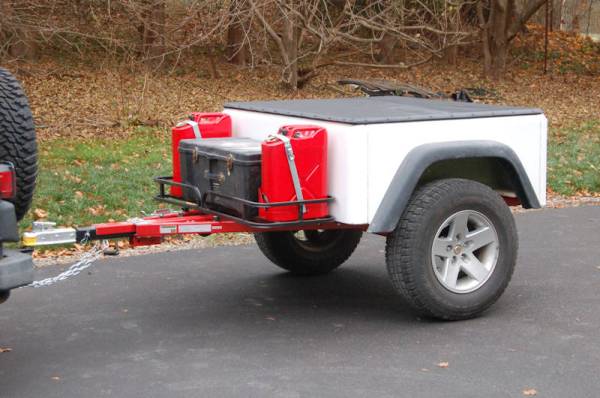 The idea is there will be individual front, rear and side panels that you drill and bolt together. Once your tub is together you would attach it to a floor such as plywood or aluminum diamond plate.
My initial thinking is to first introduce an open tub Compact version around 4 1/2' long. Then an Extended version around 6 1/2' long. These would work as gear hauler or tent topped camper. If there is interest it will be easy to make a smaller version tub based on the 40x48 bolt-together frames for motorcycles or ATVs. Then stretching the tub to 7 1/2' or 8' and adding an upper section for building compact hardsided campers.
For the Compact tub version, the target price including your frame kit is around $1200. What do people think? Sound interesting? Any feedback?
Status Update 05/10/12:
Dinoot Trailers have hit a major milestone! Tub kits are shipping, visit the
web-site
for pricing details.
A new related thread
Started a new thread for exploring expanding the tub kits into a modular "Teardrop" size camper. Check it out at
Dinoot Camper