Now i know that a slide in camper is not a true teardrop. However I was bored and was trying something different.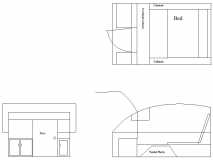 Now let me try to explain the concept. The bottom is a standard 4X8. This will fit between the wells of most full size pick ups. Then it will expand out 6 inches on either side just above the fender wells. This will make it 5 feet wide. On top of this will be a bed that can be folded up into a seat. Then at the top of the bed rails it will expand out another 6 inches on either side making it a total 6 feet wide. This area in the inside will be made up of storage cabinets. At the foot of the bed on the ceiling will be a cabinet for more storage or a TV. On the back side of the fender wells the floor will widen to cover the full width of the truck bed. This will contain a small galley and the door. The galley will be just large enough to contain a small sink and some storage cabinets. The door will be 2X3 so just large enough to crawl through.
Now the biggest problem that I see will be the hatch. Once closed then you will not be able to get in or out of the camper.
I guess on the plus side of the hatch would be than one can take the mother in law along to sleep in the camper. Then once she gets inside, simply toss her a box of Twinkies, a can of Soda and a cup to pee in and shut the hatch and lock her in for the weekend.

Just an idea to see what people think about it. Perhaps a matching TD and Camper would be cool.