Thank god for long weekends. If it weren't for them I'd be in real trouble. However, I've made significant progress since I last checked in. The roof skin is on and two coats of epoxy have been applied. This would all go so much faster if I didn't have to wait for epoxy to cure

I've framed up the rear door opening. I made a design change there. Rather than making the whole back flat and inset into the curved sides, I decided to curve the rear and only inset the door. Like so:
I didn't take any pictures but the door is built too, though it still needs to be skinned with aluminum. When I decided to change the rear end I also decided to lose the shelf at the rear, and have it come straight down instead. It just wasn't looking right. So now the floor and trailer are about eight inches shorter.
I also put the aluminum on the sides and back, and even laid down the underlayment for the vinyl roof. The vinyl is waiting at the post office for pickup tomorrow. Here's how the shell looks now: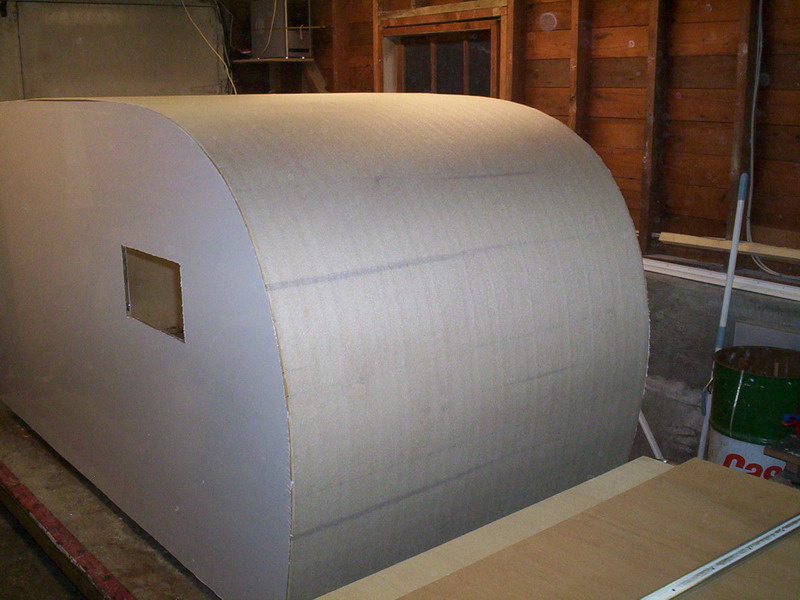 I picked up a couple of lengths of insert corner trim, but all anybody in town had was polar white, no mill finish, so I've been using an eighty grit sanding wheel in my dremel to remove the paint, then hand sanding to 150 and polishing with 0000 steel wool. It's slow, but it looks pretty good.
I'm down to ten days before the maiden voyage so keep your fingers crossed that the busy time at work is over for now.
-Greg