Thanks, guys, for the kind words.
Last weekend I
tried
to take it for the first camping trip. The plan was to visit my wife's parents in Houston, then drive on to Galveston for a few days. We made it to Houston just fine, but while there she injured herself. Nothing serious, but enough that we had to cancel the rest of the trip and head back home.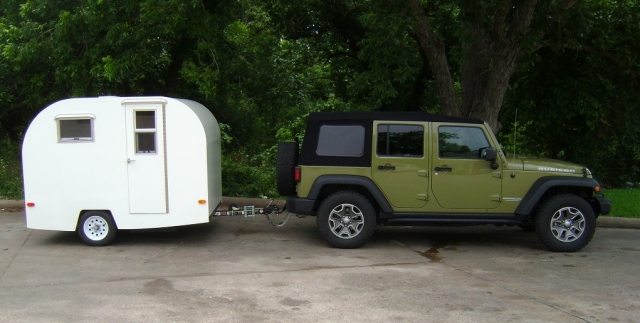 The Rubicon is not known for its great gas mileage. Normally I would get about 17.5 mpg on this trip. On the way TO Houston, driving 65-70 mph, I got 14.3. On the return trip, I held it to 65 mph, and got 14.8. Not too bad of a penalty.
As I kept staring at it, I decided the camper needed a back bumper. I bought some 4"x4"x6' aluminum, and just bolted it to the angle iron on the back. The RV "stinky slinky" (sewer hose) fits inside with standard RV caps holding it in. The bumper is mainly cosmetic, but offers more protection than what it had, which is nothing.
So, after seven years of on-again off-again construction, I pronounce that version 1.0 of the Retro-Kamper is
DONE!

I still may do some window curtains, and I have a few other projects that I may or may-not do (such as the overhead cots). But as many of you who have made the journey have pointed out, you are never
truly
done. Thanks for all the continued support over the years!