After spending most of an 11 hour ride from Florida to Virginia looking over all the TNTTT boards we have decided to build our 1st teardrop. It's starting to shape up as a cross between a Grumman & a Cub profile.
I found a trailer that looked like it would work at Northern Tool (5' x 8') and we were ready to get started. I noticed the tongue didn't seem to extend far enough forward so I stopped by the welding shop I use and had them extend it a couple of extra feet. They also added angle bracing and supports for rear stabilizers.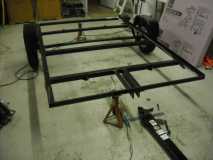 Since I had sheetmetal available I panned the bottom of the trailer with 26 gauge galvanized metal and framed above it with 2" framing to end up flush with the top of the angle iron.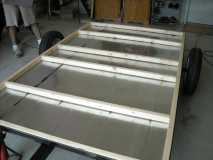 The 2" board insulation is glued to the sheetmetal with contact cement and 3/4" plywood covers it all.
Well, I can't seem to find the rest of the pictures right now

... More to come later.
James