Hello guys and gals, it's been a day or two, but i'm building again. Financial and health problems kept me out of the shed for a while, but a few budgetary cuts here and there should make it feasible again, yay! The biggest change is swapping the sides to wood instead of alupanel, and a lot of small things add up aswel.
Anyway, my roof is waiting for me!
4mm (that's about 1/6") brushed aluminium panel.
The sides all measured and cut,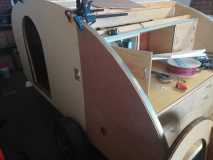 And primed.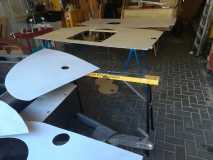 I hope to take her out camping this year, so the plan is "campable" not finished. all things needed to make her roadworthy are ordered, not as fancy as i want, but cheap and quick to assemble (lights below the trailer instead of build in the hatch etc). All things i can easily change/upgrade in the future.