ChasCABQ wrote:So I had driven my trailer around town with no issues. A month later I'm readying it for first camping trip, air up the tires, and head down the road. SQUEAK, SQUEAK, SQUEAK! Right wheel's sidewall is rubbing on the frame! I return home, put tent camping gear into my Subaru and head out with my son-in-law. We had a great trip to East Fork Campground in the San Juan Mountains of southern Colorado.

After returning, I check things out. I had put larger, highway rated wheels on the trailer and they have very little clearance. I will check the axle alignment and wheel (it could be out of true) and switch it out with my spare (same size).

I may have to install spacers to move the wheels out 1/4 inch or so. Worst case, buy a new, longer axle.
Glad to know you are out, When I was last in Alb. my axel connect broke on my first trailer "box kite" it rubbed in to the wall and burned a hole in the side. be careful you do not want to be far away and smell smoke. The wheel was not welded on straight and that is part of why I started my new trailer. Also you pull with the wagon I pull with a corolla car but there is some pull back lost with the flat front even with the wagon at 55+ you get what I call U-haul trailer drag. You can put a box on the front with a curve at the top like this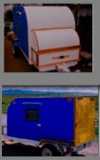 plus there should be some extea weight on the front. I use it to hold things for the trailer like stabilizer jacks, spare tire, and my gas bottles for cooking or light. I also brought some starter wood for fires. as soon as I put the box on it pulled even smoother. Australian trailers use a screen that runs just in front of the trailer keeping air and dirt from hitting the trailer. google ... mesh stone guard trailer in the outback of NM it might help more then air.
I have many photo's of Teardrop trailers most do not have the top curved. mine it square at the bottom and round at the top. even Roly's has some curve.
However if you are not bothered by it that is cool too. I think I get better mpg with it.
I was last in NM in 2008 maybe when I get this one done I will venture out to see it as a tourist

second Generation New Mexico Native.
Ron Dickey
Los Osos, ca