Finally got past the holidays and back to work on the pop-up project. Installed the Fantastic Fan today. The pop-up came with a large roof top AC unit but we do not camp in the heat of the summer so I decided to install the same type of Fantastic Fan that I had in my weekender. The depth of the main frame of the fan was greater than the thickness of my roof so it stuck out about 1/2" inside the cabin. I had to build a wood frame of 1X3 around the inside opening in order to seat the inside trim piece. I did the standard installation using 1" butyl tape under the outside flange and caulked the outside edges with Dicor Lap Sealant. The Dicor sealant was touted in some related Forum posts as being superior to silicone caulk since it could be more easily removed. The wiring to the fan was run in a short section of Wiremold conduit from the nearby terminal block junction box. Since I couldn't raise the mast to run power to the roof, I installed some jumper cables and checked it out. When I connected my power cord and flipped the breakers, the fan and overhead lights all worked like a charm. Next step, after the caulk dries, is to install the Ultra Breeze fan cover. I used this on my weekender and really like it as it allows me to keep the fan running during a rain. I'll be posting an update on that installation next.
The frame around the opening was necessary to properly seat the inside trim piece. The DC wiring comes from the nearby terminal block junction box through a short piece of Wiremold conduit and through a hole in the 1X3 frame. I used spade connectors to connect to the fan wiring.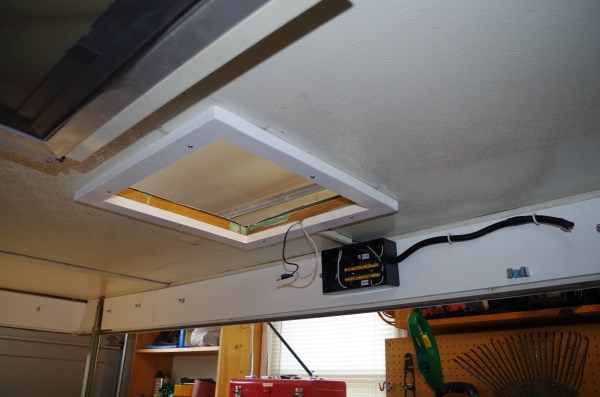 I used 1" butyl tape on the top flange.
The original screws were tightened until the butyl tape oozed to the edge of the flange (four of these screws will be removed later and replaced with the latch screws for the Ultra Breeze when it is installed after the caulk dries).
Fantastic Fan is installed and sealed with Dicor Lap Sealant.
Interior trim piece installed and terminal block junction box cover in place. Roof electrical is complete.