The queen size bed is now fully decked with partially closed storage compartment below. This work included walling in the rear of the storage area to keep anything from getting into the cable hoist system at the rear and left side. I was able to re-use the 1/2" marine grade plywood decks from the old pop-up pullout beds for this work. It was a pain in the @$$ since they were spliced with narrow strips of thin plywood and a ton of staples that had to be removed. I decided to hinge the covers over the storage area even though we will generally slide plastic storage containers in from the front which will remain open. The 12" area along the rear wall was covered with three removable panels for easy access to the hoist system for future maintenance or repair. The black latex paint (two coats) was left over from a previous house project. This part of the project only cost the $20 price of the two piano hinges. Next order of work will be the bead board all around the side walls and dinette seats.
Bed frame before this work started.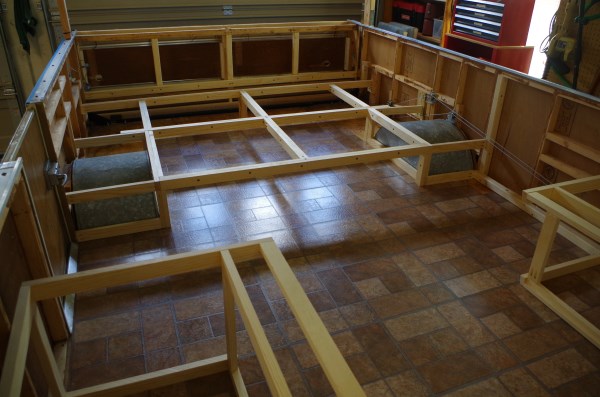 Walled in the rear half of the storage area with 1/4" plywood to keep anything from moving around and getting into the hoist cables.
Decking was cut from the old pop-up pullout bed decks which were a nice 1/2" marine grade plywood.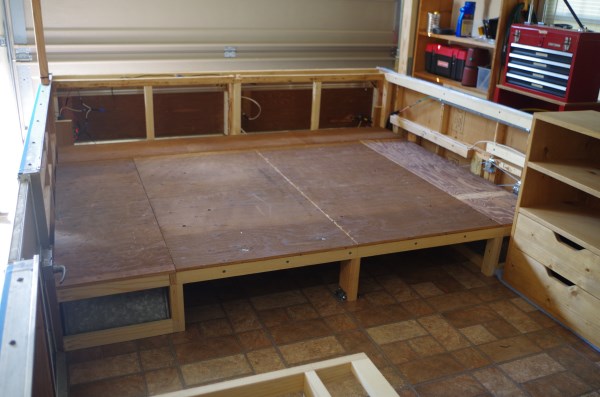 Generally the bed will be covered with a foam mattress and access to storage will be through the open front.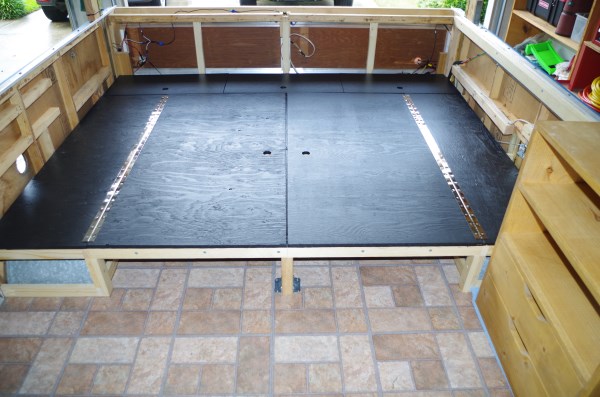 Thumb holes and piano hinges provide easy access to storage area. Three small removable panels across the rear with thumb holes allow easy access to hoist system.