Check it out: it's perpendicular! (ish)
Here's the front. The bottom half of the nose will be a storage area. The top half will be an open shelf. (Ignore the dividers--they're just temporary braces for the dry fit. They do show will the bulkheads will be, though.)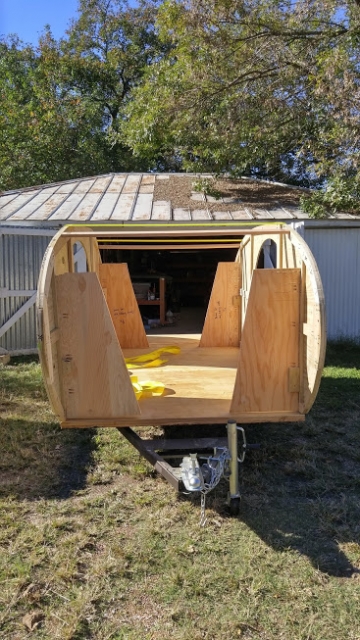 Here's a 3-quarter view.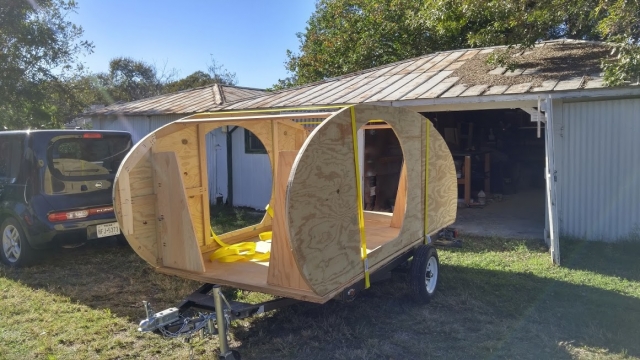 And, lastly, the galley.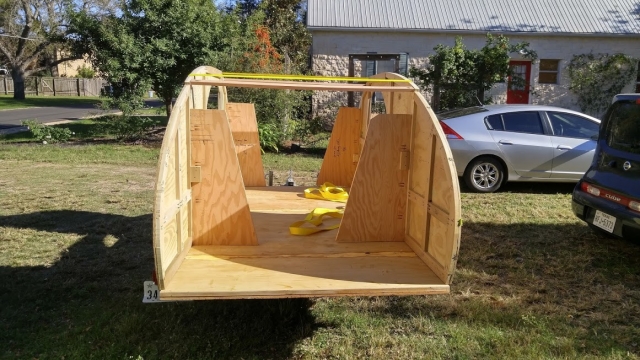 Mr P & I loafed inside for a while, which was happily a little more spacious than expected, and mulled over various wiring issues. The weather was cool, the sun was warm, and everything was
all right.
So far, the only thing change I think the setup needs is to have a little space dug out in the underside of my walls to accommodate the boltheads that hold the floor onto the trailer--the walls won't sit perfectly flat because the bolt heads stick up too much.
Now that we're getting into the holiday season, Ferdie's going to be on the back burner for a while, but when I have the time, I'll mosey out to the garage, sit in the trailer, and think about wiring and light fixtures.
Other than marking where the wires and fixtures will go, the next steps will be to take down the walls and unscrew everything, use the flat trailer to pick up the remaining luan sheets and poplar 1x2s that we'll be needing, and then reassemble everything, only this time slathered with TB3. Should I put anything inside the screw holes as well, or is covering the surfaces in glue enough?
Side note: I fear that once I install my fan, the Little Ferdie will be too tall to fit though our freakishly low garage/shack door. I've known the day would come when we'd have to tear down that moldy, leaky, varmint-infested, and termite-riddled mess, but that day may come a bit sooner than originally projected...