Ahh - a new build thread. After lurking here for the past few months and reading many build journals and checking out many different designs and plans I have learned a lot about teardrops trailers in general and the people who build them but I decided to jump in and build one anyway.
I settled on the Grumann2 profile and a stock NTE 5x8 trailer kit as the foundation layer. I am sure I will learn a lot more about teardrop trailers and the people who build them during the life of this project so I decided to call it "Learning Curve" as in - I am somewhere very near the bottom of that curve!
Two weeks ago I ordered the trailer kit and this morning I stopped by my friendly neighborhood NTE location and picked it up. It came in three boxes, two long narrow ones and another one for the tires, hitch, attachment hardware. None of them were light but I managed to get them into the truck and headed on home.
Since the two long boxes were both somewhat torn up I decided to open everything up and check all the parts against the parts list. Everyone does that, right? Well, everything appears to be there although one of the cross rails was slightly bent.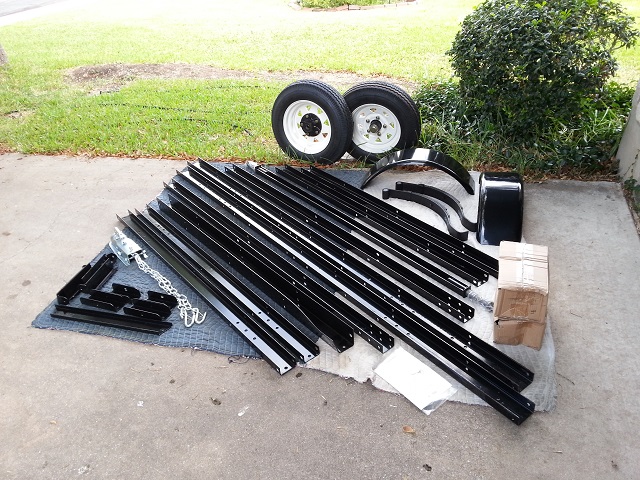 Since I had everything all spread out in the driveway anyways I might as well get started and see just how bad the directions really are. I've read several comments about these kit assembly instructions. The writer obviously assumed an experienced audience and the drawings are a little small but I think I am doing okay until I notice that I am assembling it right side up instead of upside down as they show in the picture but failed to mention in the text. Hmm. Side rails and five cross rails and it is already too heavy to flip over on my own. Now where did I put that teenage son of mine. Okay, now I can continue. BTW - that slightly bent cross rail (you can see it in the picture) was successfully beaten back into shape with a rubber mallet. I will leave all the bolts loose until I get the floor built so I can be sure everything is nice and square.
Lessons learned today:
1. Assemble the trailer on a soft surface, like the lawn, so it does not get all scratched up as you drag the pieces around.
2. Nuts, bolts, and washers are hard to find if you drop them in the grass.
3. Have someone nearby to assist with moving heavy assemblies around.
To be continued...
Lou