Here you go OP.
Cut 4 mm ply sheet to size. Put between hot, wet towels. Batten the sides to stop bulging in the middle. Staple and glue.
Tighten tie downs. Glue, clamp and staple ends on.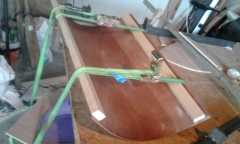 Done.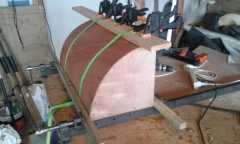 Will try to attach today.
Thank you both OP and KC Study for your advice about using epoxy glue some time ago. I wish that I had just spent $500 on epoxy at the start and used it right through. Once I got through the learning curve it is easy to mix and use.
Think that I'll have a break from filling and sanding today and tidy up some wood working.