I've recently gotten back into camping and I've been camping out of the back of my Honda Odyssey. I got one of those tents that slips over the back end and you raise the tail gate to act as the roof support. This worked well until you get a good wind, then it doesn't work so well.

After fighting with that for a few trips and then the pain of breaking it all down if you wanted to drive somewhere to see the sights, I got it in my head that a camper would be a better way. So I peruse the local Craigslist and RV ads. Now I haven't ever priced a camper out, but some folks must be pretty proud of there 20 year old Jayco popup.
Now I had heard of teardrop trailers in passing, but again, I never looked into them. So Google brought me here. After perusing this site, the build journals, and pricing out what it would take to build something like this, I discovered I could make something the way I wanted it and for much less than the well used Jayco with its unknown issues.
After pouring over all the build journals, the many great designs, the many outstanding builds and the clever ideas you all have shared, one design really caught my eye and said "That's it. I want to build one like that." It was rmclarkes Sunhopper
http://tnttt.com/viewtopic.php?f=5&t=22856
. I really dig the angles and lines and of course the overall build is great. Rmclarke generously shared his dimensions with me so the exterior profile will be the same. I also came across the thread about Izzomac's commercial Grasshopper that he restored
http://tnttt.com/viewtopic.php?f=5&t=19698
https://www.flickr.com/photos/izzomac/sets/72157602566390390/page1
which I also loved. So I've decided to combine rmclarkes profile with the original Grasshopper.
I am going to go with the single door and window on the passenger side, large window on the drivers side, and a large front window from the original design. I am omitting the galley in favor of more internal storage as well as space for a slide out AC unit. It will have two externally accessible storage areas in the rear to hold the outside stuff ie awning, poles etc... Plywood skeleton wall construction, 5mm, 3/4in with insulation, 5mm. Marine paint exterior. Haven't decided if I am going to paint the interior or stain it. I was going to paint but the interior skin ply I got has a really interesting grain to it that I think would look nice stained. I will decide that later when the time comes. Still deciding if I am going to go with cubbies for storage or doors on the cabinets. I am leaning towards doors at this point for the back and cubbies upfront. I am going with 110v/12v with a computer power supply powering the 12v initially with provisions for battery in the future. (Budgetary reasons).
So without further ado, the picture. Yes picture singular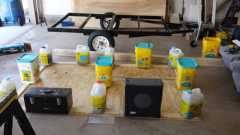 Yesterday I assembled the Ironton 5 x 8 trailer with the help of my son. Today I got the sub floor cut, glued and screwed, and the floor skin cut and ready to be installed. I have to add two more cross support pieces then cut and lay in the blue board insulation.