Going to make some progress this weekend.
All I have done in the last twelve days is fit the bearings and hubs, put the wheels and suspension on the chassis and fit the towing coupling. And make one half-wall.
Chassis on wheels (at nine am). It's autumn here, as you can see from the low sun and the fallen leaves.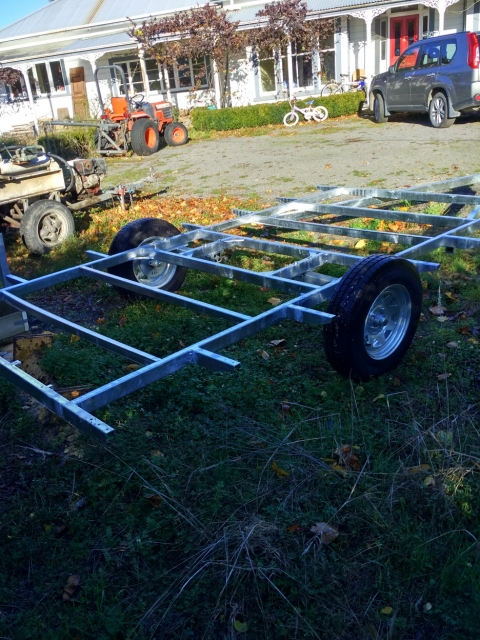 close up of the suspension; Australian Trojan Duratorque half-axles, 1500kg. Probably too sturdy

Will change them for lighter later if it turns out that way, have to see what Erin wants me to put inside. If she wants a running machine, a wood-burning stove and a walk-in freezer (and who wouldn't?

), well, 1500kg may be about right.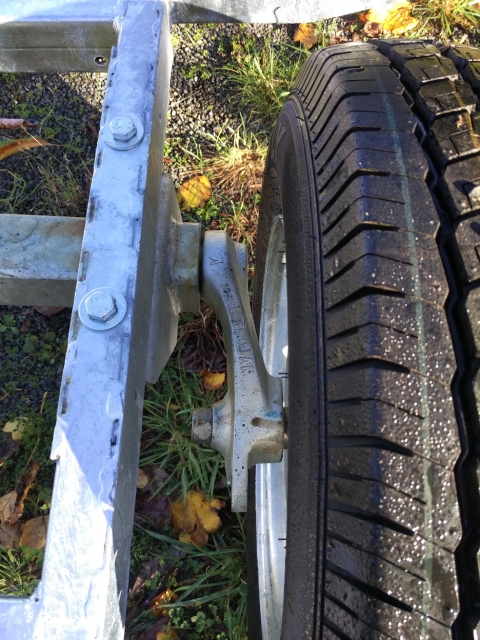 Before galvanising I made bolt holes for fixing down the deck (will be fixed with @20 bolts and 30 tek-screws), made arrangements for brake hoses, made conduit holders for the trailer lights and tabs for other fixings

.
So happened that beside the chassis this morning were three things I built previously; front to back, a tractor tray (angle iron from an old bale elevator), a 13hp Honda powered log splitter that I designed and built which has given eleven years of service (has a lifter built on, it is in the transport position in the photo), and the tractor boom pole.I have a FEL (front end loader) for the tractor, too, but it isn't fitted yet, I have to fabricate a sub-frame. I need to put the FEL on to lay down the new drive on which to build the shed in which I originally intended to build the caravan.

I may not die with a fortune but as things are going I should have a very decent to-do list to leave someone.

Hope to cut and mount the floor and start the front and back walls this weekend. But my plans are the best joke God heard today, as my friend says.