Well I started a new build last week.This one will make it easier for an old fat man to use. Getting dressed laying on the bed has become a struggle. This new trailer will be a stand drop. It's built on a very modified Northern Tool trailer. I have length end it 18" and extended the tongue so I can have a tongue box. Next week my new axle should be in. The axle will have electric brakes and take 14" wheels. The over all size will be 5X 10.5 ft. It will be a conventional materials build. Painted aluminum skins. I want to keep it 5ft wide and have the bed go crosswise. So that means the bed has to be longer. There will be a drop down on the curb side and a tent like a popup has will cover the extension for my feet. This allows me to step into the trailer and stand in a drop floor. I picked up an RV door at a salvage place that will work perfectly. When I step in, the double bed will be directly on the left. Straight ahead will be a vertical cabinet with an AC on the bottom. A Microwave And a storage cabinet above the counter top. I will use a portable induction cook top, A drawer below the counter . Next to this another base cabinet turning the corner and against the front wall. The counter top will then be L-shaped and I will leave just enough room to sit at the counter/table with my back against the curb all on the rt side of the entry door. A porta potti will be disguised under the seat for the table. Galley will be a fairly traditional one. I expect to do most of my cooking and living outside. I'm just looking for some extra comfort on the inside.
Here is where I am so far. Waiting for the new axle so the frame is just sitting here waiting for wheels.
Here is the underside of the floor with the drop floor.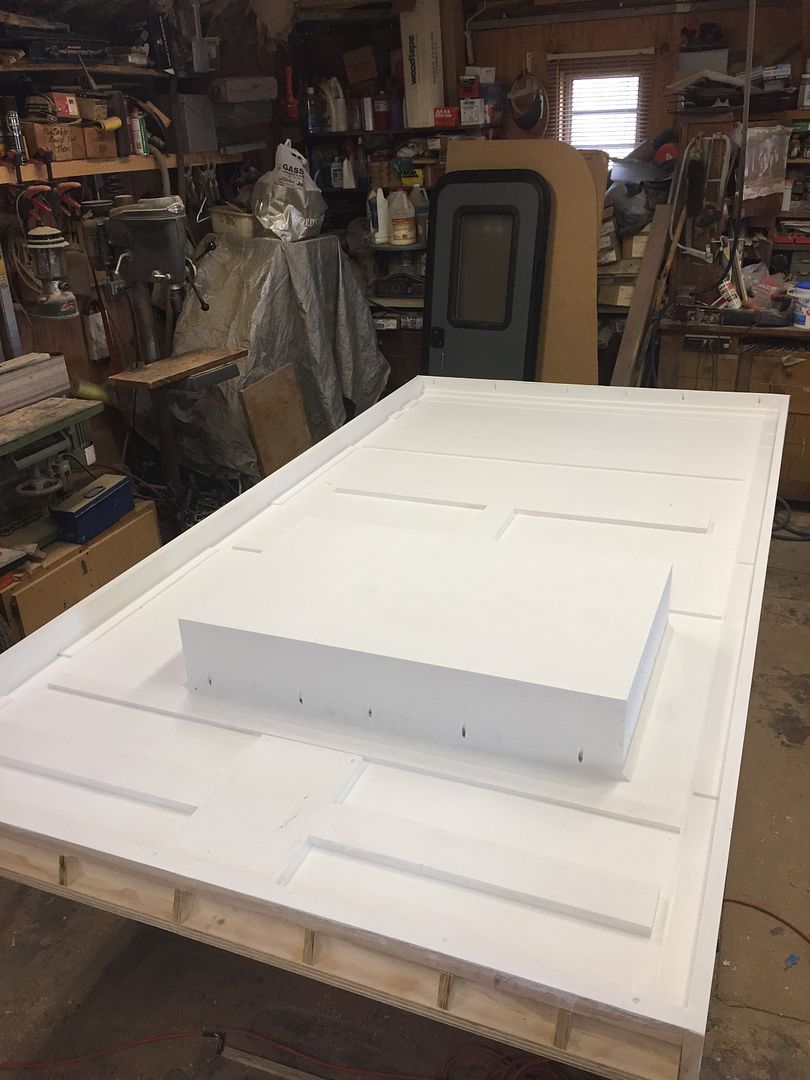 This is the floor sitting on the frame.
Here is the profile. This is the drivers side. There will be 3 15 X 18 tilt out windows. The 2 on the right are over the headboard and the one on the left up front is over the countertop and right of the inside cabinet. The large opening in the middle will be finished when the Baggage door arrives. It will allow the AC to exhaust.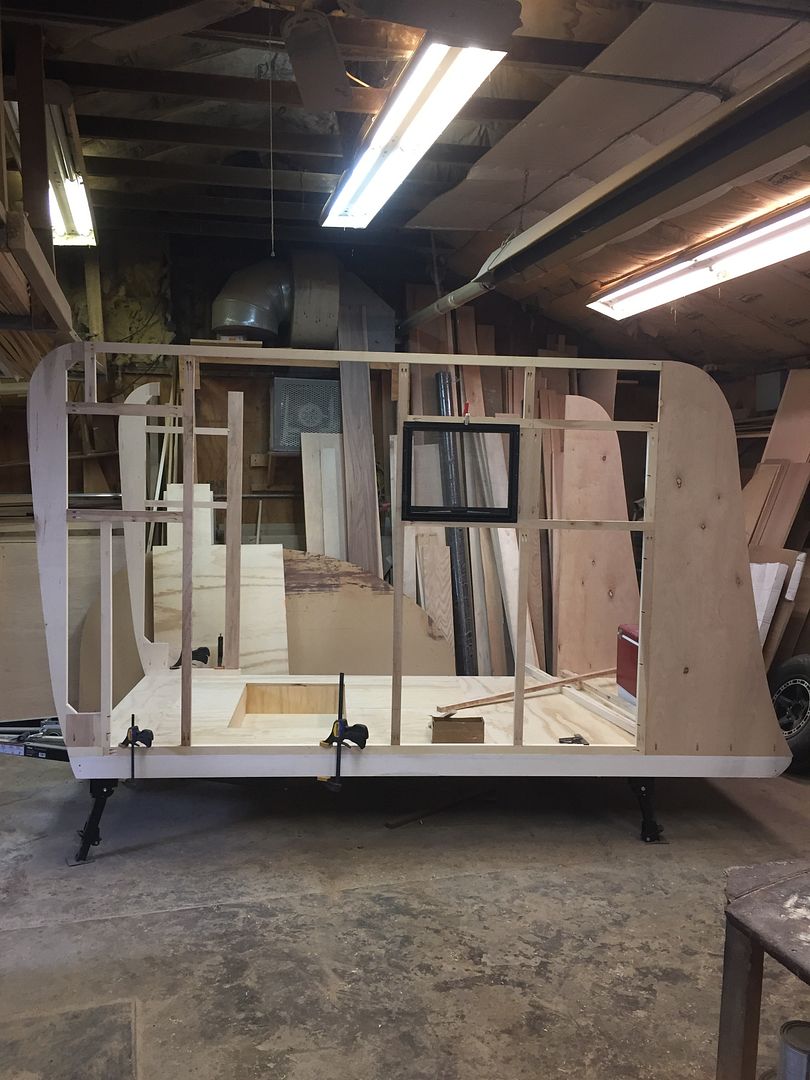 Front profile.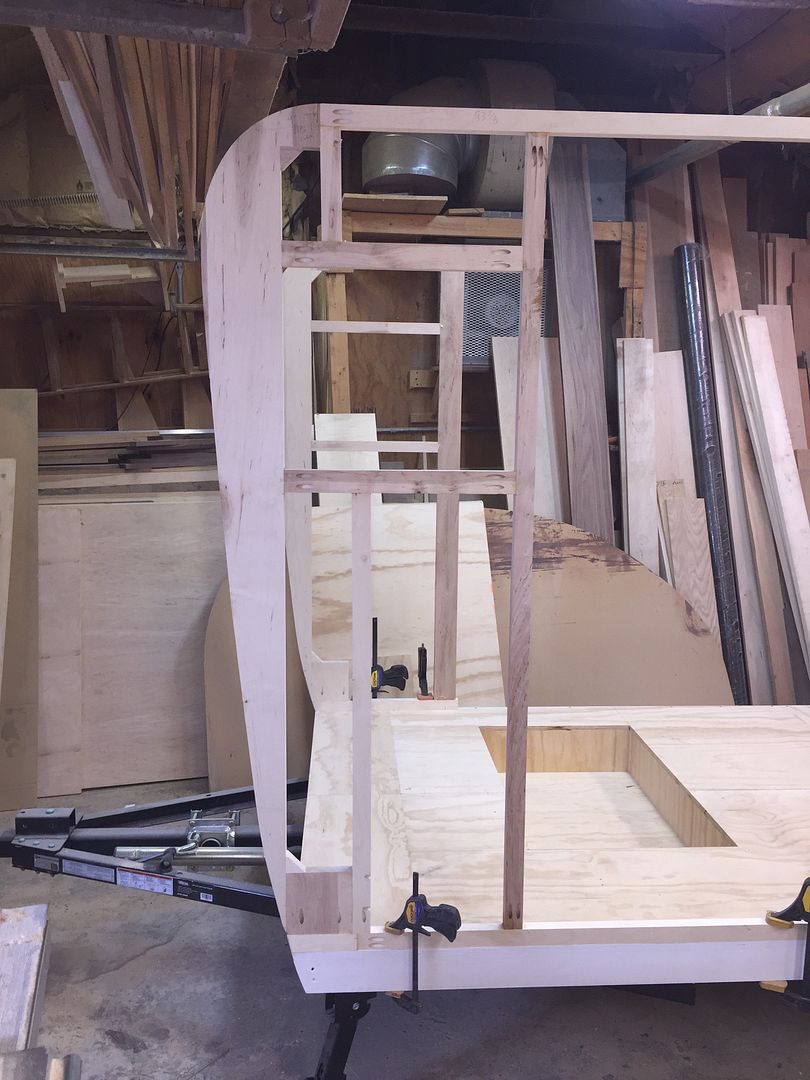 Rear profile, with a whale tail.