Got the bed shelf in Friday. Finished the electric off this morning.
We added a dual USB port in next to the 12v lighter socket.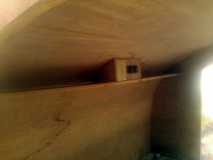 Wet, rainy weekend. Couldn't work on the Woody but I did get the new drum finished!
I make these out of propane tanks. It's where I get my daily spending money.
And I use the left over steel for Combat Robots.