The end is nigh! If all goes well at tomorrow's inspection then I should be on the road for real.
It's been a bit of a flurry of activity the last week or so. Toss in a cold that the entire family has had the joy of sharing... yeah. It was fun.
Knowing that I needed to get this show on the road, I kept tackling the minor details. Such as bolting the trailer to the frame. Kind of important, it's something that I'd been putting off for a while. Why? Well, with a BAL stabilizing jack on all four corners, it was actually pretty handy a few times to be able to separate the body from the frame. I'd fully extend the jacks, build up some cribbing underneath out of 4x4 and then retract the stabilizers til the frame was sitting on the ground and the body was in the air. Of course, that could have all been avoided with better planning, but where's the fun in that?
Anyhow, once I decided that it was time to finally connect things I gave the bolting fairy a call. Or princess. Not really sure what this costume was on this particular day.
Afterwards I dug around the old paint pile to come up with some galley paint.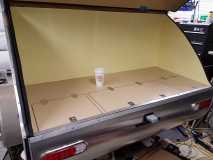 The bolting princess/fairy said that the colors were boring. I told her that we'd paint her trailer whatever color she wanted. She got excited and started drawing up plans. Not the result I was hoping for. But, the paint was paid for and the wife said she could live with it. I have some more of the yellow that I'm going to use inside to brighten up the forward part of the galley bulkhead, where our duffel bags will be stored.
Speaking of duffel bag storage, I probably could have made my interior shelves a little bigger. As it is, I've got so much foot room that I could probably add a memory foam topper on top of 3" foam mattress we're using. I bought four blocks of foam, 30" x 72" x 3" thick from Fred Meyers. At $24 a piece I didn't feel bad about cutting them up to fit (and I still have a little more trimming to do). I was in the process of looming my wiring and securing it to the bulkhead when nap time struck.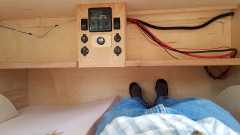 Today was a big milestone day. Not only was the sun shining (for at least part of the day), but the the trailer is finally sealed up and ready for rain. I hope. Here's a final shot of the new windows. Don't mind all the black smudgy crud on top of the tongue box, that was an ill-advised attempt at "cleaning" up Sikaflex 221 while it was still wet. Don't try this unless you are using paper towels soaked in rubbing alcohol. On the flip side, I did learn that polycarbonate scraps make decent scrapers without doing much damage to the aluminum underneath.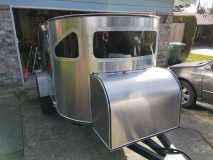 Even bigger than a sunny day was the maiden voyage. The first drive was a tender loop around the neighborhood to make sure that it wouldn't explode or anything. The school bus was making it's loop and I figured that if anything were to go wrong, for sure this is when it would happen. Fortunately, the drive was a bit anticlimactic. With that great victory it was off to the scales. The big maiden voyage. All the way across town to the certified scales. And I managed to time it just right for rush hour. My helper was excited for the chance to play in some real life gravel while I was disconnecting/connecting the trailer between weighing runs. I was way off on my estimated weight. I was hoping to keep it under 2000lbs. I'm just shy of 1400lbs. There's a little bit more to go, but I think all told my empty weight will be in the neighborhood of 1600lbs depending on how fancy my galley gets down the road.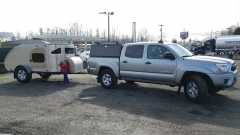 I did notice that there is definitely a grain to the aluminum sheets. I goofed on the door and edges of the hatch so had to cut them out of my emergency extra sheet of aluminum. It's not very noticeable in the garage, but it's very obvious outside. No biggie though, since it's only the doors and hatch it almost looks intentional.
Now I just have the inspection to get knocked out Thursday afternoon. There's still a lot of little things to do. We have a camping trip planned and booked for the week after Easter, which is probably a lot closer than I'm realizing. We'll get done what we get done and not sweat the rest.