We have an awning solution

After weather issues on our previous trips (too much rain and then too much sun) we knew that we needed some sort of outside cover. I poked around on the web for a bit looking for ideas but couldn't really find anything appealing. Most seemed to hang out over the roof or curves like an afterthought. I knew I was going to lose some of the aesthetics by putting an awning on, I was really hoping to keep it looking like it belonged. Our solution? We went with two Smittybilt 6.5' awnings mounted to the roof slanting at an angle when viewed from above, like a V, though not meeting in the front. The forward end sits right over the gap between the front windows, the back end overhangs where the roof line starts to curve down to the galley: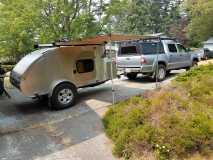 I mounted them to the roof using L-track, so they're relatively easy to remove if need be (the awnings, not the L-track). I drilled new holes in the ARB mounting brackets to allow them to mount at an angle: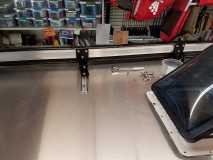 The L-track is perpendicular to the roof line. I used shorter sections to try and help prevent water from getting caught and pooling.
The awnings sit close to the roof but don't quite touch. I did have to add a small loop of line to the zipper pull to make it possible to zip the covers up.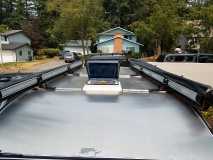 I used a copious amount of SikaFlex to seal off the screw holes and ran a good bead under the length of the L-track. I'm not a big fan of holes in the roof, but this idea wouldn't have worked with side wall mounted brackets.
We also got a bonus by mounting the awnings at an angle. There are optional wall kits available for these awnings and if I go that route then there will be a minimal gap between the trailer and awning. This would give us a nearly completely enclosed room on either side of the trailer. Almost time for our next trip!